10 Nov

Agitprop Residency Launch!
AGITPROP RESIDENCY PROGRAM
FEELING POWERLESS? LET OUR PRINT MAKING FACILITIES MAGNIFY YOUR VOICE!
PRINT FOR A CAUSE.  THINK. MAKE. DISSEMINATE.
1 CONCERNED INDIVIDUAL, 1 MONTH, 100 PRINTS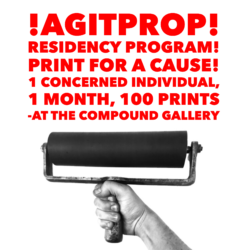 The AGITPROP residency is designed to give a concerned individual the opportunity to create art with a message. We are reaching out to all of those (not just artists) who have a cause they believe in. The project will take form as a new residency program focused on traditional printmaking techniques (e.g., letterpress, silkscreen, etching, relief, photopolymer plates) and building a bridge between printmaking's historic relationship to generating social/cultural/political awareness and contemporary social media/online forums. The Compound Gallery, LLC  in northwest Oakland will serve as headquarters for the residency program, but dissemination of residency projects will take place publicly – anywhere in Alameda, Contra Costa, San Francisco counties, and possibly beyond the Bay Area– as well as across the internet.
Our goal is to support concerned individuals by sharing the Compound's extensive art making facilities so that they may share one important cause of their choosing to produce at least 100 prints (posters, brochures, postcards, zines) that highlight the objectives of their cause in one month's time.
This residency is not intended to promote a specific organization. The works produced could still cover the general beliefs and cause of a particular organization without being specific to a select organization.  A few examples of significant and timely local issues we would like to encourage dialog about include, but are not limited to: political issues, human rights, racial profiling, police brutality, homelessness, lack of affordable housing,  climate change, the statewide drought, water rights, tolerance, racism, and other issues of concern. Messages of hate will not be accepted or tolerated.
What better way to get your message out there than producing aesthetically interesting art work?  Dissemination and uncensored public dialog pertaining to the selected social causes elicited by creative acts transmitted beyond the gallery walls are an integral part of the residency program. We imagine that the print media created during the residencies will be displayed on street posts, buildings, and community center billboards, and distributed as free giveaways at events, neighborhood meetings, on public transportation, libraries or other civic spaces; anywhere with high public visibility. Through the residency program, we hope to encourage people to critically engage with pressing social issues and initiate conversations with as broad and diverse of an audience as possible, reaching beyond the scope of typical gallery patrons.
We have an arsenal of seven letterpresses, two etching presses, and a full screen printing set up. The Compound will not only provide access to comprehensive facilities, but also equipment training, some materials, and personalized assistance with the conceptualization, design and execution of projects. If needed, Compound Co-directors will meet with each of the incoming artists to discuss their artistic vision and help direct them to the proper printmaking medium. Subsequently, Compound staff will provide artists with a comprehensive orientation of the facilities and equipment training and will assist in printing negatives for burning silkscreens or photopolymer plates and/or setting up files for and producing lasercut plates, etc. They will also be on hand to assist with printing throughout the month-long residency. Artists/groups will have access to the facilities five days a week, Wednesday through Sunday 12:00-7:00 pm. In addition, the Compound will provide basic materials such as aprons, gloves, rags, solvents, silkscreens, scoop coaters, emulsion, digital negative media, photopolymer plates, linoleum, wood and metal type, etc. You can find out more about our previous residency program here.