24 Feb

Red Baron: A Tyler James Hoare Retrospective 1960's-Present

 March 18th-May 7th, 2017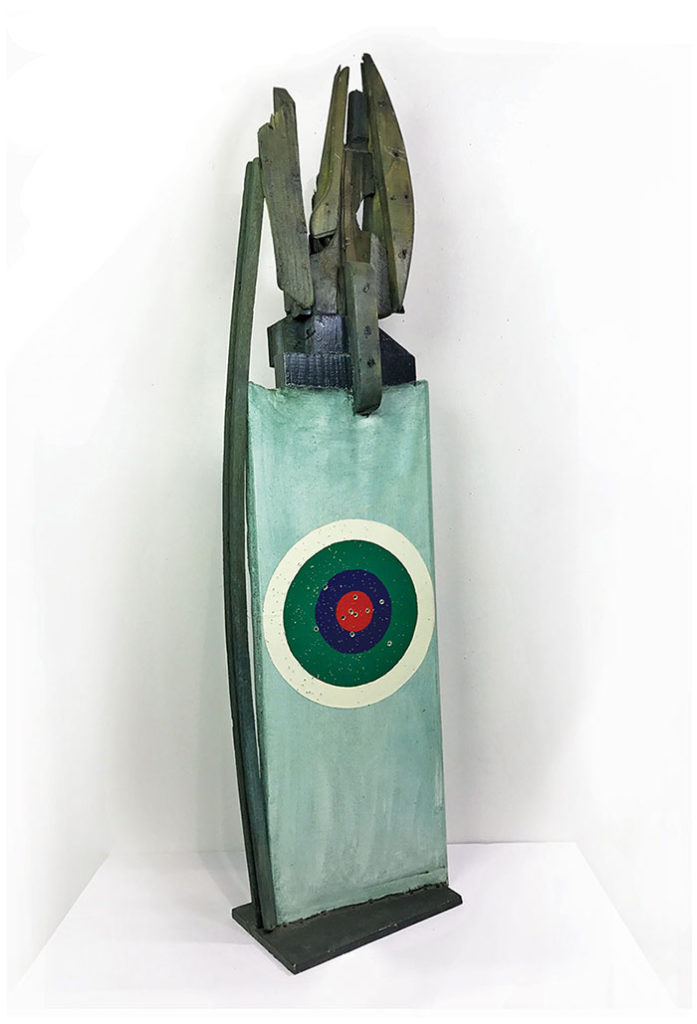 Opening Reception: Saturday, March 18th 6-9pm
Artist Talk: Saturday, April 1st at 4pm
Airplane Installation: Saturday, May 6th at 1pm at the Emeryville Mud Flats
Tyler will be installing the Red Baron on the pier. We will leave the gallery at noon.
The Compound Gallery is pleased to announce a 50 year retrospective of the esteemed Emeryville mudflat artist Tyler James Hoare.  Last year, we exhibited a small grouping of Hoare's works in our smaller Fabrefaction Gallery. This year, we are delighted to present an extensive solo exhibition of Hoare's work in our main gallery.
Hoare's early years at as an artist in residence at Xerox allowed him to experiment with xerox as a printmaking medium and use the xerographic process as a way to "build" his works in much the same way he approaches his sculpture.  Hoare looks for engaging objects in photographs, magazines, and various publications for his collage work much like he scouts for driftwood, man made debris, or discarded objects to create his sculptures.  The seemingly disparate objects in his 2D and 3D work achieve new meaning in Hoare's imaginary narratives.
Hoare does not see his work as a precious commodity. Instead,  he leaves the fate of each piece to nature.  He places his creations into public spaces, and as a result, each piece interacts with nature and humanity as an autonomous performance piece.  Hoare has used the Emeryville mudflats, particularly the vestigial remnants of the old pier, as a gallery for his work since the 1970's. This exhibition is an exciting moment where the public is able to appreciate his work close up.
This exhibition features an array of Hoare's work spanning from the 1960's through the present. The gallery will feature one of Hoare's full sized airplanes-the Red Baron- in the Main Gallery, and on Saturday, May 6th at 1pm, he will move the airplane from the gallery to the Emeryville Mud Flats. The public is welcome to attend.
The collection of work on display will also include Hoare's early collage work, masks, and large standing sculptures. Tyler will give an artist talk at the gallery on Saturday, April 1st at 4pm.
For More information on Tyler's history, check out this excellent article at E'ville Eye.
This short film by Chris Marker showcases the artwork (including early work by Hoare) in the Emeryville mudflats in 1981.
b. 1940. Sculptor and printmaker, Born in Joplin Mo. attended the University of Colorado, the Sculpture Center in New York, the University of Kansas (BFA 1963), and CCAC.  He assembled figures in often humorous combinations of found and tooled objects, primarily of wood, coupling a basically cubist style with overtones of Surrealism.  Some of Hoare's pieces occupied the anonymous, grassroots sculpture garden that began to flourish in the mid-1960's on the mudflats of Emeryville.  In the 1970's he was one of the earliest Bay Area artists to experiment with color xerox as a medium for printmaking.  -From Art in The San Francisco Bay Area 1945-1980 by Thomas Albright.
One-man shows include New Center United States Art Gallery, Kansas City, Missouri, 1964, Jewish Community Center Gallery, Kansas City, Studio C, Berkeley, California, 1965, Derby Gallery, Berkeley, Lucien Labaudt Gallery, San Francisco, 1966, University California-Berkeley, 1966, Free University Berkeley Gallery, Fredric Hobb's San Francisco Art Center, 1967, Green Gallery, San Francisco, 1968, St. Mary's College, 1969, John Bolles Gallery, San Francisco, 1969, 71, San Francisco State College, 1970, Camberwell School Art, London, England, 1971, State University of New York, Albany, Atherton Gallery, Menlo Park, California, 1972, Stanford, 1973, Richmond (California) Art Centers, 1983, California State University Hayward, Keokuk (Iowa) Art Center, Olive Hyde Art Center, Fremont, California, John Bolles Gallery, San Francisco, Center School Art & Design, London, 1974, Daly City (California) Civic Center, San Mateo (California) Arts Council/Sunshine Gallery, County of San Mateo Hall of Justice, 1975, Purdue University Gallery 1, 1976, Spiva Art Center, Missouri Southern State College, 1977, Manner of Speaking, San Franciso, Stuart Gallery, Berkeley, 1978, Studio 718, San Francisco, 1980, Geotrope Gallery, Berkeley, 1981, Studio Nine, Benicia, California, Marin County Civic Center, San Rafael, 1982, Solano Community College, Suison City, California, 1983, Oakland Art Association Gallery, 1986, Coastal Art League Museum, Half Moon Bay, California, 1989. Exhibited in group shows The Trading Company II, University California, Berkeley, 1989, Western Washington University Bellingham, 1989, California Museum of Photography, 1989, University California, Riversdide, 1989, Eye Tahoe, Venice, California, 1989, Holsum Roc Gallery, Chicago, 1989, Cleveland Institute of Art, 1989, Sonoma State University Art Gallery, 1989, Gallery 25, Fresno, California, 1989, The Art Store Gallery Los Angeles, 1989, Art-Pool, Buda-Ray University Budapest, Hungary, 1989, Junior College Albany, New York, 1989, Ohlone College Art Gallery, Fremont, California, 1990, Alcorcon Culture Office, Madrid, New York, 1990, Corresponding School, New York City, Balley Art Gallery, Walnut Creed, Calif, 1990, Mercer Gallery, 1990, Monroe Community College Rochester, New York, 1990, Academy of Art College Gallery, San Francisco, 1990, Sonama State University, 1990, Canada, Union, Scarborough, Ontario, Canada, 1990, Sangamon State University, Springfield, Illinois, 1990, Junior College of Albany, 1990, Adirondack Community College, Glen Falls, New York, 1990, Contemporary Technology Art, Museo International De Electrografia, 1990, Monroe Community College, Mercer Gallery, Rochester, New York, 1991, Wilder Gallery, Los Gatos, California, 1991, Buda-Ray University, 1991, Guy Bleus Archives, Belgium, 1991, Art Electro-Images, Paris, 1991, Action Art International, Chgo, 1991, Goodwill, Kent, Washington, 1991, Electrografia Museo International, Spain, 1991, Contemporary Art Gallery, Aono, Japan, 1991, Shadow Archive, Kenosha, Wisconsin, 1991, University Art Gallery California State University, Hayward, 1993, A.C.C.I. Gallery, Berkeley, 1993, Center Visual Arts, Oakland, California, 1993, 94, Art Research Center, Budapest, 1993, Steering Wheel W. Art Gallery, San Francisco, 1993, Photocopier Art, Ace Art, Winnipeg, Canada, 1993, Irvine Arts Center, 1993, University Texas, Dallas, 1993, 10,000 Humans Edicions, Barcelona, 1993, Culver City, California, 1993, Monroe Community College, Rochester, New York, 1993, Hockey 100 Calgary, Alberta, 1993, Fresno Art Musg, Canada, 1993, Luther College, Decorah, Iowa, 1993, 94, Corridor Gallery Texas Tech University, Lubbock, 1993, Center d'Art de Baie, St. Paul, Quebec, 1993, AUA Gallery, Lebabnon, New Hampshire, 1993, Artists Book Works, Chicago, 1993, Les Vraies Folies Bergeres, Paris, 1993, Arlington (Virginia) Art Center, 1993, 94, Oakland Museum Great Hall, 1996. Represented in permanent collections Oakland Museum, California, Pasadena Museum, California, California Palace of Legion of Honor, San Francisco, Sanfrancisco Museum, Librarry of Congress, Pratt Graphics Center, Los Angeles County Museum, Cincinnati Museum, United States Information Agency, Washington, State University of New York-Albany, Oakland Museum, California College Arts and Crafts, others.