17 Jul

Anatomies (San Francisco Chronicle, July 2, 2009)

The SF Chronicle marked Anatomies as a "Don't Miss" exhibition!

Thursday, July 2, 2009
By Sarah Han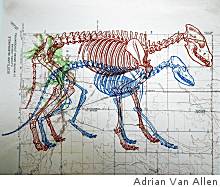 The Compound Gallery reopens after a month long closure in June with this exhibition, featuring works by Kari Marboe and Adrian Van Allen. Artist and gallery owner (of Oakland's MG Gallery) Marboe gives us an inside look at her family – literally – with her clay "internal portraits." She also offers sculptures of organs in glass cubes that re-create stories from friends and from the news. Van Allen also deals with strange biological matters – she creates an evolutionary time line using skeletons, including the skull of the mystical unicorn.