05 Jul

Attaboy: Metamorphic

Attaboy: Metamorphic
October 3-December 12,
2020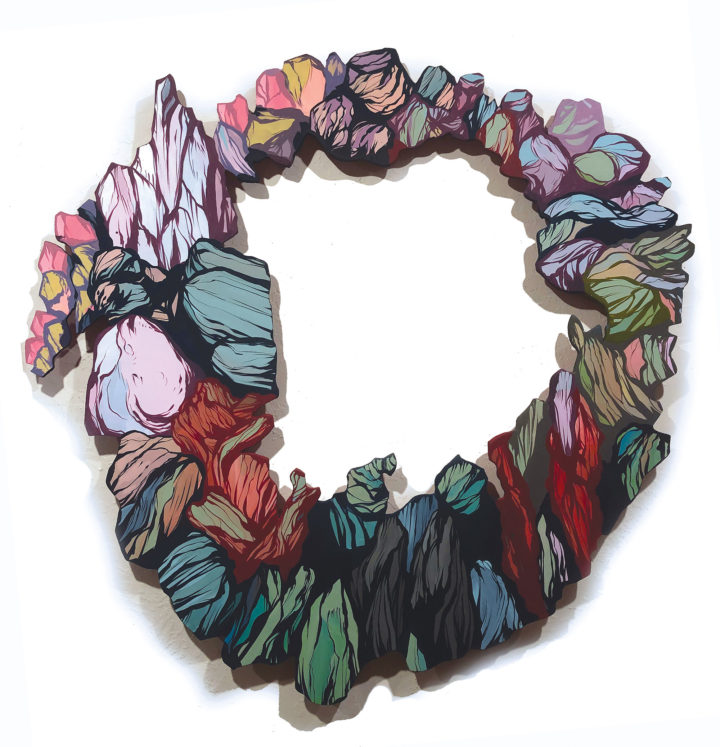 With Metamorphic, Daniel "Attaboy" Seifert's latest series of work at The Compound Gallery offers paintings of rocks on actual rocks and on panels, an installation of layers of hand painted graphic mushroom clouds that appear as if textile patterns, and more. In the painted rock series, boulders on an abstract collision course, others appear as suspended in floating landscapes, as if on a wall paper or for sale in a jewelry store for the gods. Other works depict foreboding gnarled trees reminiscent of Japanese Sumi watercolors, but these "Nature Studies" of Atta's have layered backgrounds of spray paint, and haphazard contrasting colors, creating images of gnarled trees that appear to be violent, yet peaceful at the same time.
With a commitment to creating and curating surprising forms of visual art, Daniel "Attaboy" Seifert has forged a varied career, often fusing subversion with disconcerting whimsy. Atta's recent installation "The Cradle of Life", for example, is an interactive art installation depicting a decomposing but vibrant-with-life throne which sits two rulers. Participants sit and rock side to side, creating a pleasant rocking motion akin to a newborn in a crib. Other works include sculptural paintings on levels of layered wood, which investigate themes of death, decomposition and rebirth. In June 2019, Seifert inadvertently created an international underground holiday; his one day Game of Shrooms Shroomdrop scavenger hunt led 100's of artists across the world to create and hide original art work for collectors (and the unassuming) to find. Artists and gatherers from Hong Kong, Berlin, Japan, the UK, India, Russia, Switzerland, the US, and many more participated in the world-wide event, creating a world-wide non-religious, no cost, political-free interactive "art show" of making and sharing. The event spread viral on Instagram (See the hashtag #gameofshrooms for some of the results) and was repeated this year on August 15th.
Attaboy's work has been seen in books, magazines, galleries, museums, and many designer stores. His influences include Alexander Calder, Eyvinde Earle, Yayoi Kusama, and the futurist Syd Mead. His work was recently shown as a 30′ installation at the LA Art Show and at the San Jose Institute of Contemporary Art, Oakland's The Compound Gallery, and the Corey Helford Gallery in Los Angeles.
In 2005 artists, Annie Owens and Attaboy co-founded Hi-Fructose magazine. Hi-Fructose: The New Contemporary Art Magazine was honored with a ten year retrospective titled "Turn the Page: The First Ten Years of Hi-Fructose", which premiered at the Virginia MOCA, and travelled to the Akron Museum of Art and the Crocker Art Museum in Sacramento, CA. The independent publication has spawned a popular series of hardcover books, elaborately designed box sets, curated shows, and a recent Hi-Fructose hardcover distributed by Abrams books focused on New Contemporary Fashion.
Painted rocks have long been associated with school projects. I consider the shape and 'flow" of each rock when hand-selecting them at the quarry, and those attributes are further emphasized in how they are individually painted. In one sense, the rocks "tell" me how they want to be painted, with each crag and fissure being emphasized by the color and line weight of the painted stroke, each piece simultaneously becomes an abstract interpretation based on a found object. While technically 10,000 years in the making, each rock component becomes a different, yet related, artificial version of itself. On reddit, they say that they are reminiscent of video game assets, not exactly sure what they mean.
I moved to California twenty years ago and experienced my first winter, I remember gasping at the bright green "Teletubby" hills, in the winter! I want to be in a cartoon, be dwarfed by these settings. Rocks are so relaxing to paint, it's like I am in the employ of the rocks. Compositionally. just moving one in front of the other akin to a student of the Bauhaus; seeing colors and shapes "pop" has been satisfying. I like that a small darker lined rock can stand out from a big looming rock, while being in the shadow of the other. I could do this for an hour and still want to do it more.
Atta's interview with ArtBox DMV has a bonus second part, where he discusses his upcoming solo show at The Compound Gallery, magazines, and how digital paintings are cool, but, like, not paintings. To listen, CLICK HERE