08 Oct

Call for Entries!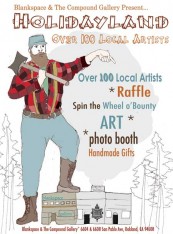 Holidayland is back!
This is the second year we will be joining forces with Blankspace located next door to create a holiday Extravaganza!
This year we are looking to offer more local original artwork, handmade crafty items, accessories, cards, ornaments, tote bags and creative fun stuff.
Holidayland is full of fun, surprises and festive events.  If you or someone you know makes affordable, well crafted items or small affordable artworks and wants to be part of the fun please see the guidelines for submission below.
SUBMISSION GUIDELINES
Send an email to info@thecompoundgallery.com with holidayland submission in the subject line. In the email please include:
1. thumbnail images or links to representative examples of proposed items you wish to sell
2. included proposed retail pricepoints of your items
3. include contact info- first/last name and the best contact email and phone number
4. Please no phone calls for submission, if you have any questions please email at the address listed above.
5. You will be notified by email if your submission has been accepted for inclusion in the sale. Follow-up info will be provided at that time.
PLEASE NOTE: if you are not available during the drop-off or pick-up times and cannot make arrangements for someone in advance to deliver or pick-up, please do not sign up to participate. We cannot store or ship any items, no exceptions.Space is limited so not all inquiries will result in being able to sell at Holidayland.
We will review all submissions to determine if your items/artworks are a good match for our event and audience.
Deadline to submit a proposal to sell in time to have your name included on the card is October 16th.
Deadline for submitting a proposal to be included in the sale (name on website all other collateral materials)is November 1st.
ADDITIONAL INFO:
Sale Dates:
November 27 – December 20th
Drop-off dates:
Thursday, November 12th – Sunday, November 15th, 12-6pm
Pick-up date:
Monday, Dec 21st 4-8pm
Participants do NOT need to be present during the sale, the gallery handles the marketing, sales and installation of items.
ALL ITEMS/ARTWORKS need to RETAIL FOR UNDER $200
Drop-off dates: Thursday, November 12th – Sunday, November 15th, 12-6pm
Pick-up date: Monday, Dec 21st 4-8pm