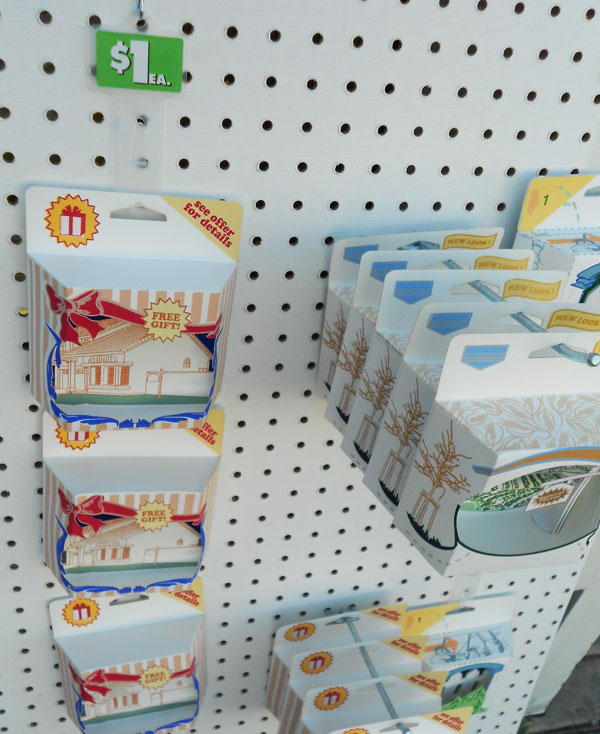 04 Feb

Buy American: Clare Szydlowski (March 31st- May 6th, 2012)
Buy American
New Work by Clare Szydlowski
(March 31st-May 6th, 2012)
Opening Reception: Saturday, March 31st, 6-9pm
Closing Tea & Artist Talk: Sunday, May 6th, 3-6pm (Talk at 4pm)
Buy American: New Work by Clare Szydlowski opens March 31 2012. In addition to Szydlowski's solo work, the backroom of the gallery will features Things Fall Apart, a selection of work done by Compound Studio artists addressing the theme of fragmentation. Szydlowski's solo exhibition continues her ongoing exploration of the American Dream. She often refers to the visual relationship between the areas she grew up in—from the towering industrial decay of Buffalo, NY to the sprawling antiseptic tract houses and strip malls of Orange County, CA.
In this show, she takes on the bargain store: a land of great buys, exclusive offers, giant values, money back guarantees, chances to win, last chance savings and free trials. Packages hang on peg hooks and sit on shelves, patterned with ribbons, banners and starbursts–trappings inherited from the traditional awards presented at county fairs. There is something comforting about this place. Something assuring in the symbols and terminology present in these packages, in the movements of shoppers as they lift products off the walls, examining prices, ingredients and claims.
However mundane, curious, or bizarre–this setting is uniquely American. In America, outlandish daydreams become manufactured realities, just as perfectly manicured lawns pepper the Arizona desert. If American promise is limitless what about our desires as Americans—is there something we are looking for amongst the claims: security, guarantee, and value–assurance that our choices are good ones? Szydlowski follows this inquiry through cut paper, multilayer screen printing and repetition. By borrowing the language of packaging, in Buy American, she illuminates these inarticulated desires that fuel our compulsion for material acquisition.