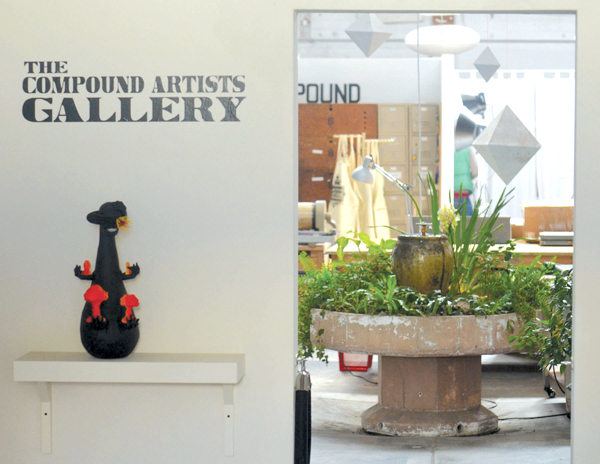 05 Feb

East Bay Express (April 4th, 2012)
The Compound Gallery: A World of Its Own
A look at the decidedly unstuffy North Oakland galleries and studios.
By Obi Kaufmann (Photo by Obi Kaufmann)
Click HERE to go to the online article
The Compound Gallery & Studios (1167 65th St., Oakland) has long been a noble outpost on the northern frontier of the Oakland art scene — happy in its own world, far from Art Murmur's gravitational sway. Started four years ago (a long run in the volatile world of the gallery business) by powerhouse couple Lena and Matt Reynoso, The Compound has significantly diversified its offerings over the years, and they're worthy of examination: In addition to the main gallery and more than twenty artist studios, it's also home to a gallery featuring works made by its studio artists, a special collections room with flat files, the art subscription service Art in a Box, and The Admiral Dot Miniature Gallery, which proclaims to be the smallest gallery in the West. Yet the Reynosos say that their vision is only now being realized.
Given all the amenities offered there, The Compound aims to provide a full-service operation for the working artist. "So you have an artistic epiphany at 2 a.m., and you are suddenly hit by a moment of inspiration," Matt Reynoso gave as an example. "You need to hand-forge and weld a steel sculpture, make a wood box for it with hand-printed silkscreen graphics, photograph it, put it on your website, print 1,000 letterpress posters commemorating it, and make a celebratory ceramic stein — this can all be achieved here."
There is something so very right and strange about The Compound: an unapologetic welcome-ness where the spirit of creativity is fostered so communally that it becomes a purple, happy cloud that hangs in the air, intoxicating all. It's decidedly unstuffy — a posture that promotes both a dizzying array of beautiful work and, sometimes, an overwhelming salon where the uninitiated eye is never able to appreciate any singular presentation.
But that doesn't mean you shouldn't try. Among the exhibits right now at The Compound are Buy American by Clare Szydlowski, in which she explores the American dream with new genre, including packaging in a pseudo-retail experience; Things Fall Apart, a group show curated by Oakland painter Alison OK Frost in the Studio Gallery; the imaginative works of Masako Miki at The Art in the Box headquarters; the paintings of Jeanne Lorenz in the special collection; and, lastly, Rex Waters in Admiral Dot. All shows run through May 6.