15 Apr

Happy Paintings to Bring Mirth

May 13th-July 2, 2017
Opening Reception:
Saturday, May 13th 6-9pm
with Special 9 Year Anniversary Events!
Closing Reception & Artist Talk:
Sunday, July 2nd 3-6pm (Talk starts at 4pm)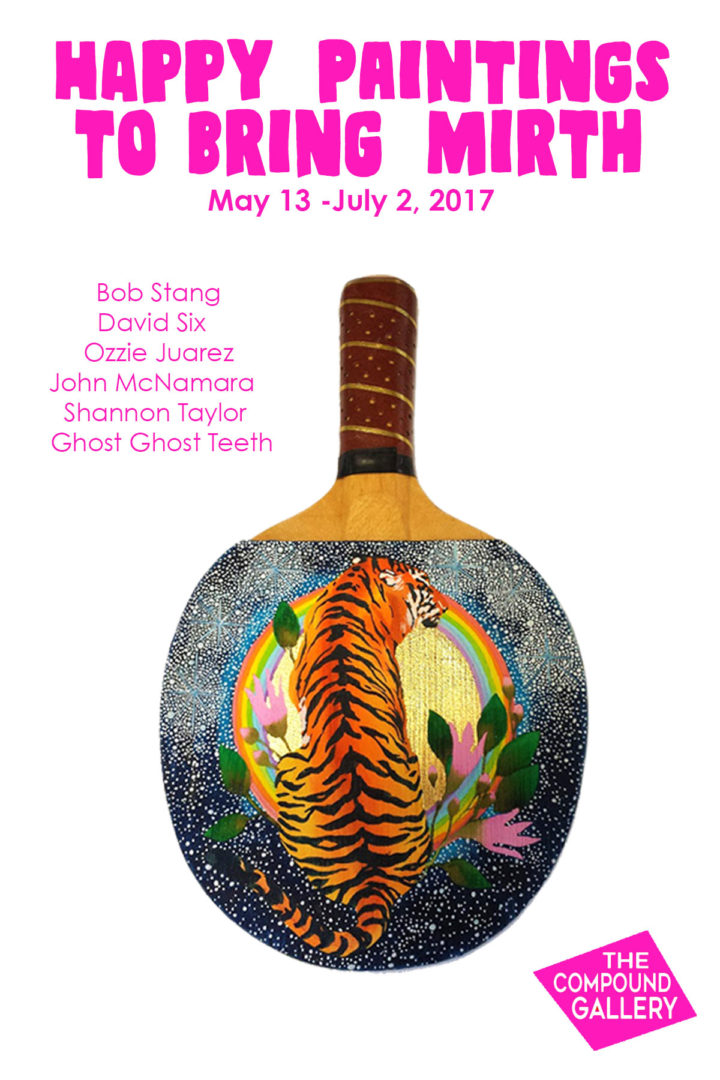 We are emerging from this exceedingly cold and rainy winter and the darkness of our current political regime with an invigorating painting show that celebrates the wild, free, gleeful, joyous!
If you love paintings and brilliant color, then this is the show for you! 
Bob Stang's surreal architectural landscapes, expressive narratives by David Six, energetic layered formations by Ghost Ghost teeth, fresh impasto by John McNamara, bold graphic color by Ozzie Juarez, and celestial Art Deco figures by Shannon Taylor! These paintings will be sure to excite your senses! You can practically hear the paint application sing songs of chromatic delight!    
Featuring art by: Bob Stang, David Six, Ghost Ghost Teeth, John McNamara, Ozzie Juarez, Shannon Taylor
[/vc_column_text]
[/vc_column][/vc_row]
[vc_btn title="SHOP ONLINE!" style="classic" color="danger" size="lg" align="center" link="url:http%3A%2F%2Fshoppe.thecompoundgallery.com%2Fcategory%2Fhappy-paintings-to-bring-mirth|||"]
We will also be celebrating our 9 year anniversary with these events by Compound Studio artists on Saturday, May 13th 6-9pm:
FABREFACTION BUILDING (1145 65th st)
6-7:30 STUDIO C: Colin Christy: Japanese joinery demonstration.
6-7:30 ART LAB: Nathan Trevino: Laser cutting demo
6-9pm STUDIO D:  Lutz Hornischer: wood sculpture show and tell
7-7:30 SEW LAB: Celena Peet demo weaving/embroidery/sewing
7-9pm COMMON: Bryan Allen 3D printer/CNC demos arduino/robotics in art
MAIN BUILDING (1167 65th st)
6-6:30pm PRINT SHOP Suchitra Sharma: Linocut demo/large prints on etching press
6-7pm PRINT SHOP: Mary Mortimer: Printing 9 year commemorative posters
6-7pm TABLES: Hannah Rothstein: Live painting
6-9pm STUDIO 11: Mary Burger: Ink and acrylic painting show and tell
7-8:30pm STUDIO 15: Karla Wilhelm: Oil painting show and tell
6-9pm STUDIO 1: Dan Nelson: Mixed media show and tell
FREE Prints from our Agitprop Printmaking Residency!
We are giving away a select number of these prints! Just come to the counter and let us know which print you want! While supplies last!
Choose from prints and zine below:
[vc_media_grid element_width="2″ item="masonryMedia_ScaleWithRotationLight" grid_id="vc_gid:1494476791263-78c010aa-1b15-7″ include="25620,25619,25618,25617,25616,25615,25613,25614″]