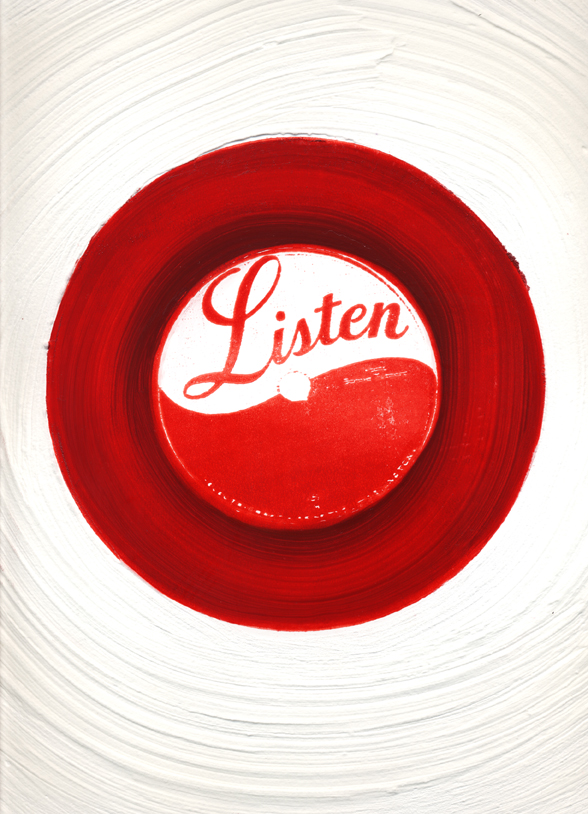 15 Jun

American Vinyl: Jeanne Lorenz (April 30th-June 5th, 2011)

American Vinyl
by
Jeanne Lorenz

(April 30th-June 5th, 2011)
Open til 10pm on First Fridays
Artist Talk and Closing Tea: Sunday, June 5th, 3-6pm
The Compound Gallery is pleased to present Jeanne Lorenz's solo show "American Vinyl". Jeanne Lorenz's fictitious last record store on the planet, "American Vinyl" comes to the Compound gallery. You are invited to rifle through bins of lushly painted record prints, and listen to the images of impasto oil painted records hung on the walls. Each record is laden with seemingly familiar phrases of a dead American moment."Epic Tomorrow", "Incandescent Past", "Finite" and "Infinite" are titles which are found floating freely on the visual music and prompts human response.
Just as the entire musical experience of a record fabricates a multi-dimensional matrix of cultural reality, Lorenz's paintings equally inspire the viewer to investigate this reality further— drawing us deeper into a familiar, yet lost America.  Lorenz's use of textures and monochromatic color harmonically produce music for our eyes, and her paintings imbibe the spirit of American pop culture.  The vinyl record simultaneously evokes nostalgia, the fullness of music, and the simplicity of its own image. The unnoticed space between the grooves, which creates and defines meaning, is always in tension with the opaque and impenetrable nature of its surface.
Lorenz's paintings layer the digital present under our analog past, so that we may witness the evolving technology that circles back to eternal modes of communication.  Fascinated by industrial materials and cast off technology, Lorenz draws round connections between the cosmological engravings of Robert Fludd and the piles of American vinyl destined for the dumpster.  Celestial and circular.
[nggallery id=51]