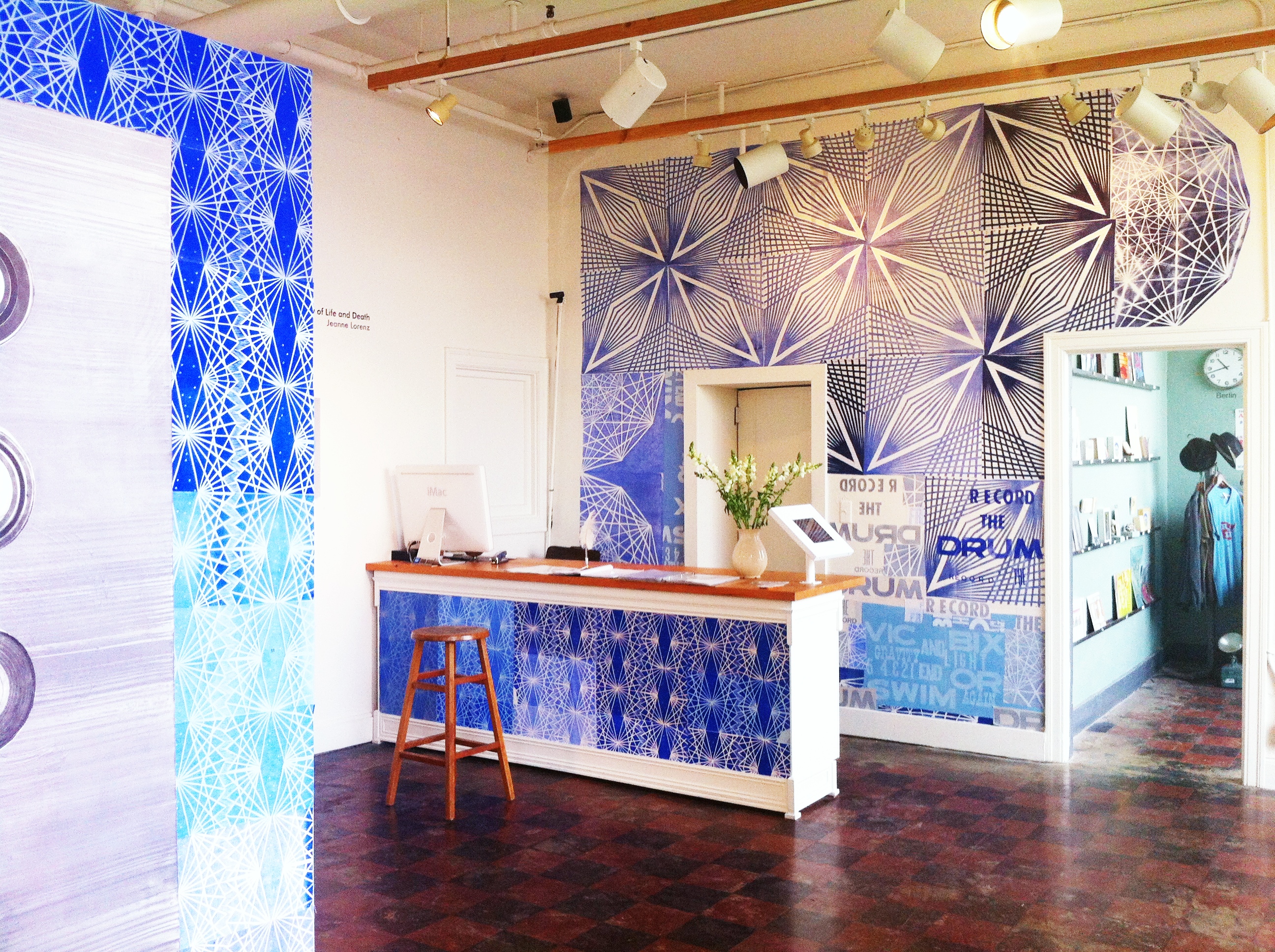 02 Sep

Songs in the Key of Life and Death: Jeanne Lorenz (November 10th-December 16th, 2012)
Songs in the Key of Life and Death
New work by Jeanne Lorenz
(November 10th-December 16th)
Opening Reception: Saturday, November 10th, 6-9pm
w/ LIVE music by SpaceAPE
Closing Tea & Artist Talk: Sunday, December 16th, 3-6pm (talk at 4pm)
In her second solo show at the Compound Gallery, Jeanne Lorenz continues to explore the iconographic potential of the vinyl record, with inspiration drawn from both the circular grooved objects and the words and titles of artists such as Stevie Wonder, Led Zeppelin and Vic Chestnut.
Paintings and printed wall installations create a cosmology of an expanding symmetrical universe of nonlinear thought and feeling. In an Epigenetic sense, the trestle and triangulated interior of the Compound studios are repeated throughout the show, acknowledging that art flows out of spaces like rivers off of mountains.
Stairway to Heaven is a Sefirot (Jewish Kabbalistic cosmological form) constructed of rock anthems from the late 1970's and early 1980's. Each of the ten songs corresponds to a unique incarnation of universal themes, such as compassion, judgment and beauty. Vinyl records were inked, printed, painted and destroyed, leaving only the spirit ghost of what was once a functional object.
The heavily impasto painted quartet sound reveals the phrase, "sometimes behaves so strangely" -referring to the research that human speech resembles music as the brain absorbs repeated aural vibrations.
In the Installation White Noise, the cosmological structure of the Sefirot is reimagined as open ended geometric space, while also departing from the popular culture of the record for the personal of the lucid dream.
[nggallery id=81]