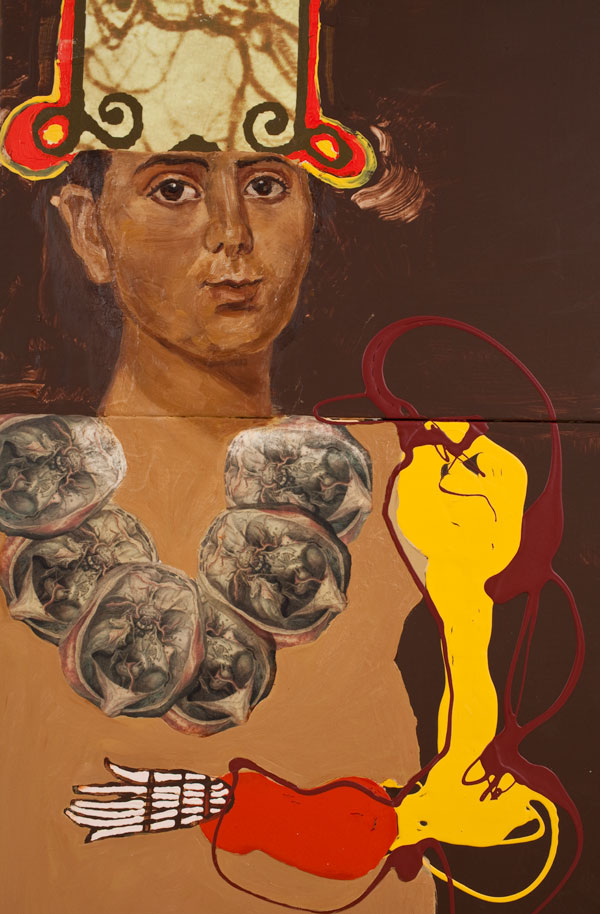 21 Nov

He-Charmers: by Katherine Sherwood (October 15th-December 4th, 2011)
He-Charmers: Katherine Sherwood
(October 15-December 4, 2011)
Closing Tea & Artist Talk: Sunday, December 4, 2011, 3-6pm
(Talk starts at 5pm)
Katherine Sherwood continues the series Healers from the Yelling Clinic with the introduction of  new multi-paneled, mixed- media paintings at the Compound Gallery.   Brain imagery from neuro-anatomy from the 16th. Century to the 21st. make up these  figures.  Hats, faces, jewelry and breasts are constructed from the illustrations of Vesalius to Ramon y Cajal to today's MRI's.  Unlike previous healers, these clinicians are decidedly male.
The Yelling Clinic is an art and disability collective co-founded by Sherwood.  Their aim is to further global disability studies by researching military pollution and its affect on the disabled population.  In December she will work with disabled artisans in Hue, Vietnam.  Her artistic contribution to the Yelling Clinic is her series of healers.
Katherine Sherwood's acclaimed mixed-media paintings gracefully investigate the point at which the essential aspects of art, medicine, and disability intersect.  Her works juxtapose abstracted medical images, such as cerebral angiograms of the artist's brain, with fluid renderings of ancient patterns; the paintings thus explore and reveal, with a most unusual palette, the strange nature of our time and current visual culture.  In addition to showing regularly throughout the United States, she co-curated the exhibition "Blind at the Museum" at the Berkeley Art Museum, and organized an accompanying conference at UC Berkeley.  Sherwood was a recipient of a Guggenheim Fellowship 2005-2006 and a Joan Mitchell Foundation grant 2006-2007. Her work was included in the Smithsonian Museum's "Revealing Culture" and at a solo show at Gallery Paule Anglim, San Francisco in 2010. Katherine is a professor at UC Berkeley in the Art Department and the Disability Studies Program. She is the artist-in-residence at the Helen Wills Neuroscience Institute and the co-founder of the art and disability collective- The Yelling Clinic.