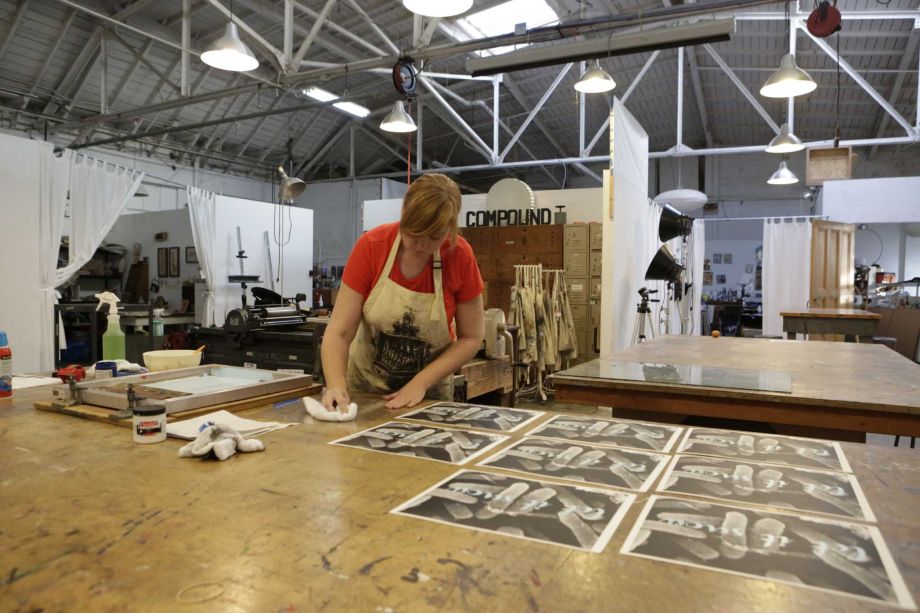 01 Dec

New art space for Oakland's Compound collective brings new hope

CLICK HERE TO READ AT SF CHRONICLE
SF Chronicle "New art space for Oakland's Compound collective brings new hope"

By Rachel Howard
Updated 12:57 pm, Monday, December 1, 2014

"Right now, we're in free fall and about to pull the cord," said Lena Reynoso, standing in a building that once housed dank 1960s offices but now holds bright white artists' studios, a laser-cutter, 3-D printer, metal shop and a ceramic kiln at 65th Street near San Pablo Avenue, on the Oakland/Emeryville border.

"We're hoping we're going to pull the parachute and find we packed it right. The overhead on this place is huge. And if we can't make it work" — Reynoso, who at 40 has dazzling white teeth and tawny skin, raised a wily eyebrow — "we're screwed."

It's not the first time that Reynoso, who holds a UC Berkeley doctorate in history, English, rhetoric and anthropology, and her husband, Matt, a construction project manager-cum-political muralist, have jumped. In 2008, the indefatigably perky couple tapped their personal credit cards to convert a rotting liquor store into a gallery and four work spaces. Six months later, they took over the building next door and built six studios with pure sweat equity.

Then in 2010, they moved into a former industrial laundry at 1167 65th St. and created the Compound, home to 45 Bay Area artists who rent space in a complex that includes letterpresses and screen printing equipment, a leather sofa lounge complete with Atari console, two galleries offering monthly shows open to the public five days a week, and the headquarters of "Art in a Box," a monthly art subscription service boasting patrons as far away as Australia and Croatia.

Tour the Compound on a weekday afternoon, and you will see, behind white linen curtains, Kate Mink sewing thread onto exquisite collages, while across the room Kayte Sabicer cuts gold leaf with an X-Acto knife and, just outside, Kyle Lypka sands a wood pedestal for a ceramic head. Chickens named Coco and Eisenhower race around the alley garden, while in the back room, Andreina Davila works in encaustics (hot wax painting).

'Tons of volunteers'

Artists pay according to how much space they occupy or a flat fee for a "locker" arrangement, with 24-hour access to the building and its equipment, and a chance to sell work in the Compound's gallery store. The community has stabilized as an economically delicate utopia, with the Reynosos as sole proprietors on the line to collect rent, which has seen steady increases subsidized through new revenues like public classes. And now the Reynosos are taking risks again.

Three months ago, seeing the peeling building next door for rent, the Reynosos signed the lease, rolled up their hipster-plaid sleeves, and raised $10,000 with an Indiegogo campaign. That's not chump change to artists, but it's a mere drop toward construction costs, and the true investment came in the form of 15-hour days spent ripping out acoustic-tile ceilings and replacing rusted plumbing.

"We had tons of volunteers," Lena said. "It made me cry on several occasions." The result is the Compound's new Institute of Fabrefaction, a sparkling playground for artists working in three dimensions.

Opportunity to expand

The new 4,000-square-foot space has been open just a month, and inhabitants have not been hard to attract. "I've been doing a lot of print work, but this is giving me the opportunity to expand into sculpture," said Alex Benedict, a Richmond artist who formerly worked out of Berkeley's Kala Institute, looking up from his table in a sunny street-side room lined with images of bright stripes.

The hope is that every artist's toolkit will expand: Lena Reynoso recently printed the Compound's first in-house currency, cardboard "dollars" labeled "Skilled Trade and Knowledge Exchange" that residents are given an allotment of and can use to barter a laser-cutter tutorial for a blacksmithing lesson or a canvas-stretching demo for a kiln-firing session. More changes are coming: The Compound recently became fiscally sponsored by nonprofit umbrella Fractured Atlas, allowing the Reynosos to apply for grants to support their artist-in-residence program, which provides free access to two artists per session for six months.

Eric Sanchez has known the Reynosos since their first build-out in the old liquor store and partners with Matt as the firm Indubitable Designs to make murals for clients like Google. "The great thing about the Compound is being exposed to new ideas, new techniques," he said. And as witness to most of the Reynosos' 18 years of marriage, through three artists' complexes, Sanchez confirms what you might suspect: "They're a really solid couple, with great communication skills. They really challenge each other."

The Reynosos just shrug. "We kind of just put on blinders and keep going," Lena said. "It's not about the actual building. The people here, the artists, they bring the energy."

When Lena added that not having kids or going to bars helps, Matt grinned beneath his pageboy cap. "We're in it for the long haul," he said. "We've realized, I guess this is what we're doing for a while."

Rachel Howard is a freelance writer.