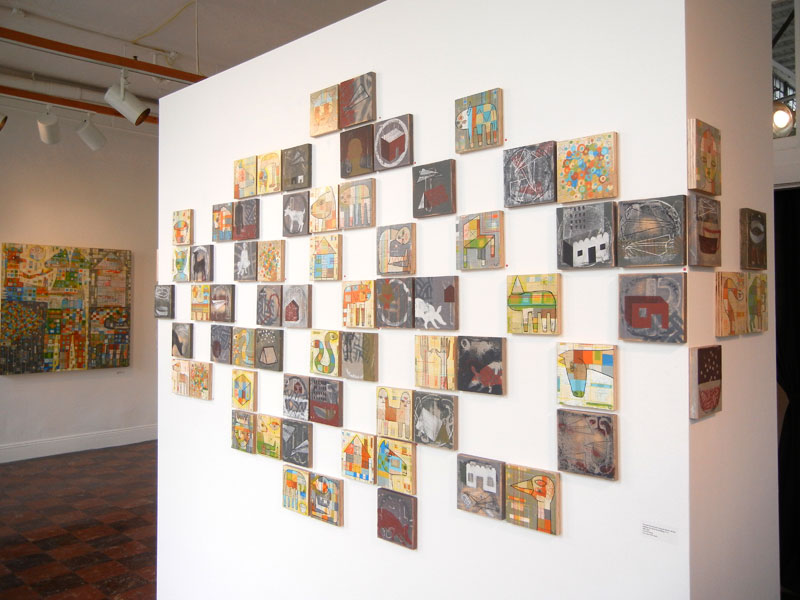 20 Jul

Making the Road by Walking: Thomas Haag and Martin Webb (July 23-August 21st, 2011)
Making the Road by Walking:
Thomas Haag and Martin Webb
(July 23-August 21,  2011)
Artist Talk and Closing Tea:
Sunday, August 21st, 2011 3-6pm
(talk starts at 4pm)
"Making the road by walking" showcases new work by two painters whose work is heavily influenced by their own travel experiences. For both Thomas Haag and Martin Webb the process of creating work is an open-ended process and exploration of images and ideas guided by a mix of strategy, reflection, and intuition. With a nod to the Magical Realists, the work of both artists features humans and animals as protagonists, symbols or metaphors in their oblique narratives.
The roles of the migrant and traveler are central to Martin Webb's work and this new group of mixed media paintings draws partly from recent time spent in the coastal towns of Senegal.  For some time, Webb's work has reflected the belief that there's more that makes us similar than makes us different, and this body of work looks closely at the necessity of work; the desire to travel for opportunity; the centrality of water in supporting our lives. In this new collection of work, an anonymous cast of animals and people play out these ideas to the accompaniment of spirituals and work-songs.
Gathering the symbols, iconography, and discarded materials of the various cultures in which he finds himself participating, Thomas Christopher Haag's new work fuses various religious and spiritual traditions into a vague contemporary mythology.   Using discarded books and "reclaimed" house paint taken from chemical disposal facilities, Haag constructs multi-layered collaged paintings which reference mythical beings or creatures having a spiritual "event".  These new works explore the idea of the neo-pilgrim, the modern wanderer and seeker of the vaguely spiritual.