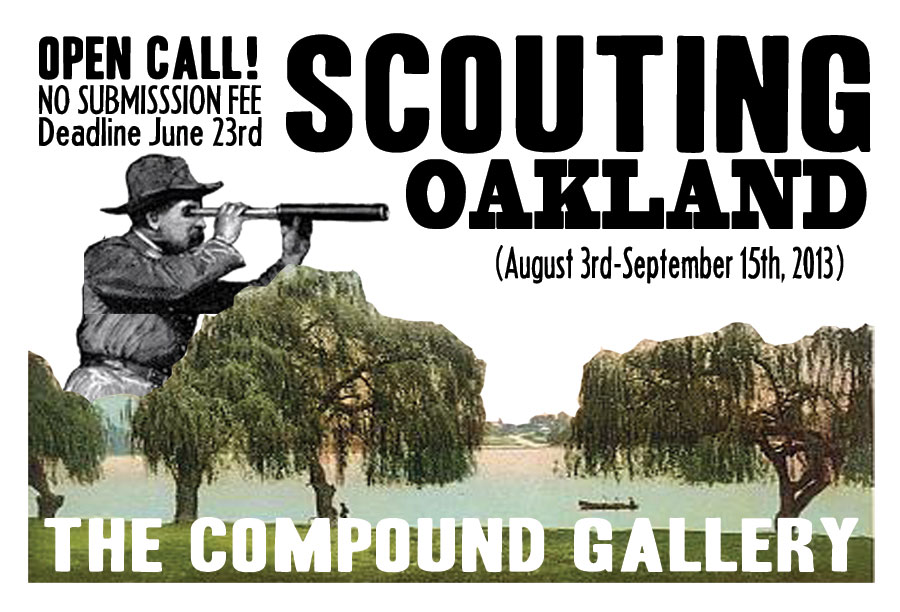 24 May

OPEN CALL! "Scouting Oakland"
SCOUTING OAKLAND
OPEN CALL FOR ARTISTS!
Download Submission Info as a PDF
DEADLINE:
Sunday, June 23rd, 2013
HOW TO ENTER:
-Enter by June 23rd
-email your submission to submissions@thecompoundgallery.com
-put SCOUTING OAKLAND in the subject line of your email
-attach up to 5 images of your work(s)
-include the following details for each image (title, dimensions, year produced, media, retail price) in the email body or as a pdf attachment.
-please make sure you are able to drop off/pick up work during designated times before you apply.
-works should be no bigger than 30″ in any direction
-selected works must be framed or on a boxed canvas.  Unframed selected works on paper will be put in our print rack.
-NO ENTRY FEE
DETAILS:
"Scouting Oakland" is a celebration of our unparalleled local surroundings. Artists shall enjoy the fine weather in Oakland and go forth with their brushes, cameras, and pencils to capture the splendor of Oakland!! Plein air painters, illustrators, photographers, sculptors,video artists­…what intrigues you? Natural landscapes? Buildings? Landmarks?
IMPORTANT DATES:
Submission Deadline: Midnight Sunday, June 23rd
Notification emailed: Monday, July 8th
Work drop off:  Thursday, July 25th, 6-9pm and Friday, July 26th 6-8pm
Show dates: August 3rd-September 15th, 2013
Opening Reception: Saturday, August 3rd, 6-9pm
Closing Tea: Sunday, September 15th, 3-6pm
Work Pick up: Monday, September 16th, 6-9pm and Tuesday, September 17th 6-8pm
GALLERY HOURS: Thursday-Sunday 12-6pm
ELIGIBILITY:
This call is open to all artists living and/or working in the Bay Area.  You do not have to live in Oakland, but all works must reflect an aspect of Oakland. We encourage you to go outside and produce new works.