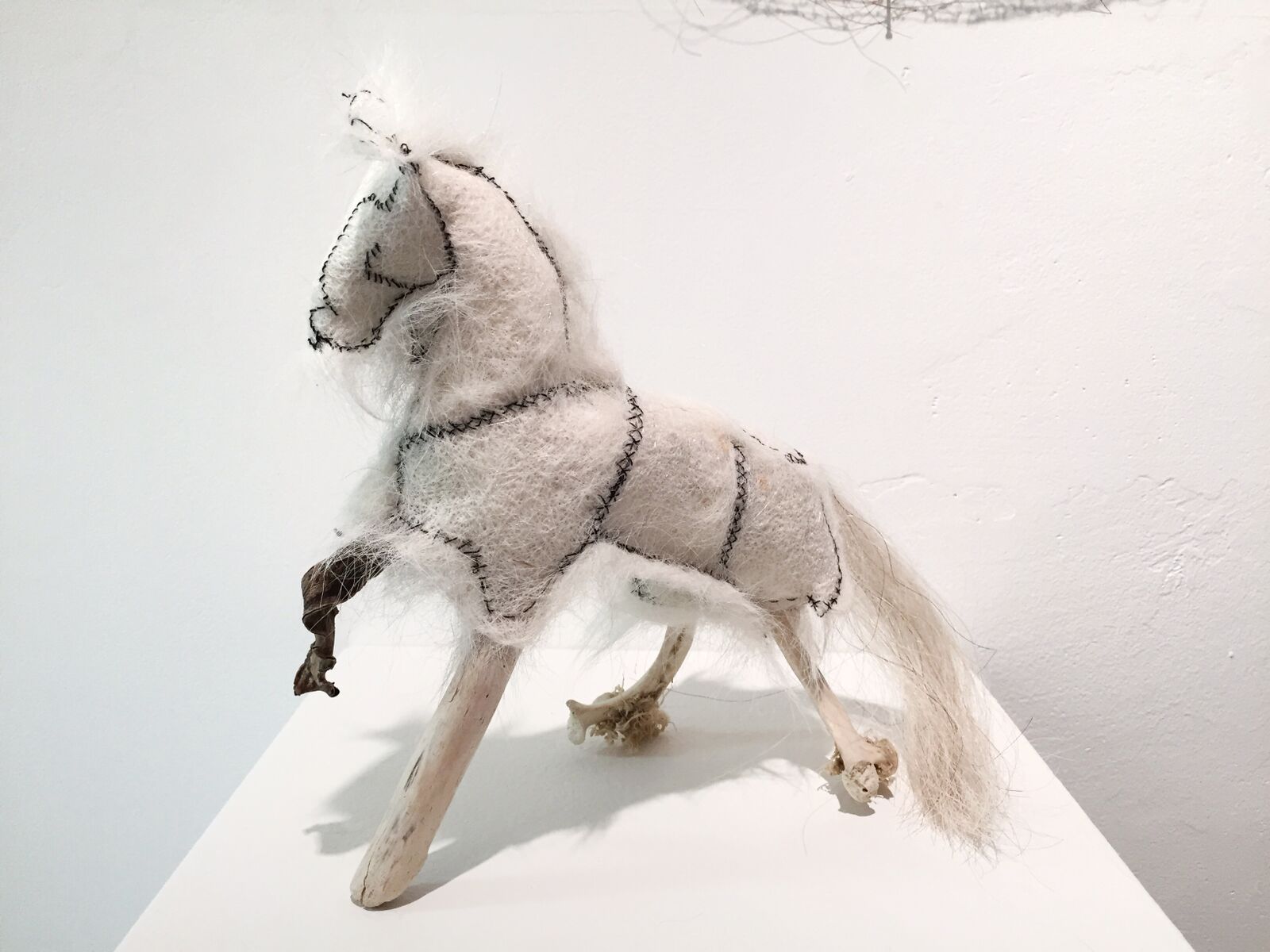 15 Jul

T.C. Moore: Interconnected

In the Fabrefaction Gallery
T.C. Moore: Interconnected
August 27-October 16, 2016
T.C Moore's art is best known for the use of an array of natural materials, horse hair, hoof clippings, wood shavings, teeth, feathers and fur to create work which celebrates the organic unity of all living things. Her work is inspired by the Biophilia hypothesis, a term coined by E.O. Wilson which states that humans as a species have a universal love for the natural world.
Visually, her work is ephemeral assemblies of natural materials mixed with traditional art materials, graphically strong and at times, enigmatic, ethereal, ghostlike and primeval. Her work balances the patterns of nature with the formalism created with her hands. Looking, collecting and touching nature's materials are integral with the process of creating her work. T.C.'s work has been exhibited across the United States in solo and juried exhibitions. She has taught drawing, watercolour, process media and methods at Berkeley City College, UC Berkeley Extension, as well as, the University of Oregon in the School of Architecture and Allied Arts. Her travels have included studies at the Glasgow School of Art, as well as, teaching a field studies seminar in Italy's Veneto region. She earned a MFA in Studio Arts from JFK University in Berkeley and a second masters degree in Landscape Architecture and a Bachelors of Architecture from the University of Oregon, as well as, an Associates degree in Interior Design from Mt. Royal College in Canada.
Lost Animals is a mixed media artistic response to my own panicked angst about the fact that 20 to 50 % of all flora and fauna will be lost by the end of this century. In this exhibition, I have adopted the role of becoming the animals' advocate in a way that I hope is evocative, subtle and ethereal. Many of the pieces are built into and under glass, in tiny vials or in display cabinets. I fear that our future biosphere will only be present as a display item for our entertainment in isolated islands of biological data. Many of the pieces are made with animal skins, feathers, hair, teeth and claws incorporating elements from the animals' habitats, such as birch bark, milk weed seeds and pine cones to indicate precisely the conditional interdependence and survival of both the animals and their environment. You can't save one without the other. The exhibition features an installation of Quagga's, hunted to extinction in the wild by 1878. This family group, mare, stallion and foal are made from horse hair, both winter coat hair that has been shed and felted, as well as tail hair that has been knotted and tied to create this life size herd. I wanted to create what I call psychic presence. When you walk around and through this delicate herd it is like you are walking amongst ghosts. The sculptural pieces titled Leggings and Bunny Slippers were created to make human apparel items using animal fur and feet to develop empathy for animals. Finally, the pieces titled Healings are skins from the fur industry that I purchased on-line as scraps by the pound. I opened the package and found the mink and beaver pelts with holes cut into them. I felt the need to try and sew them back together, to honor all of their being.