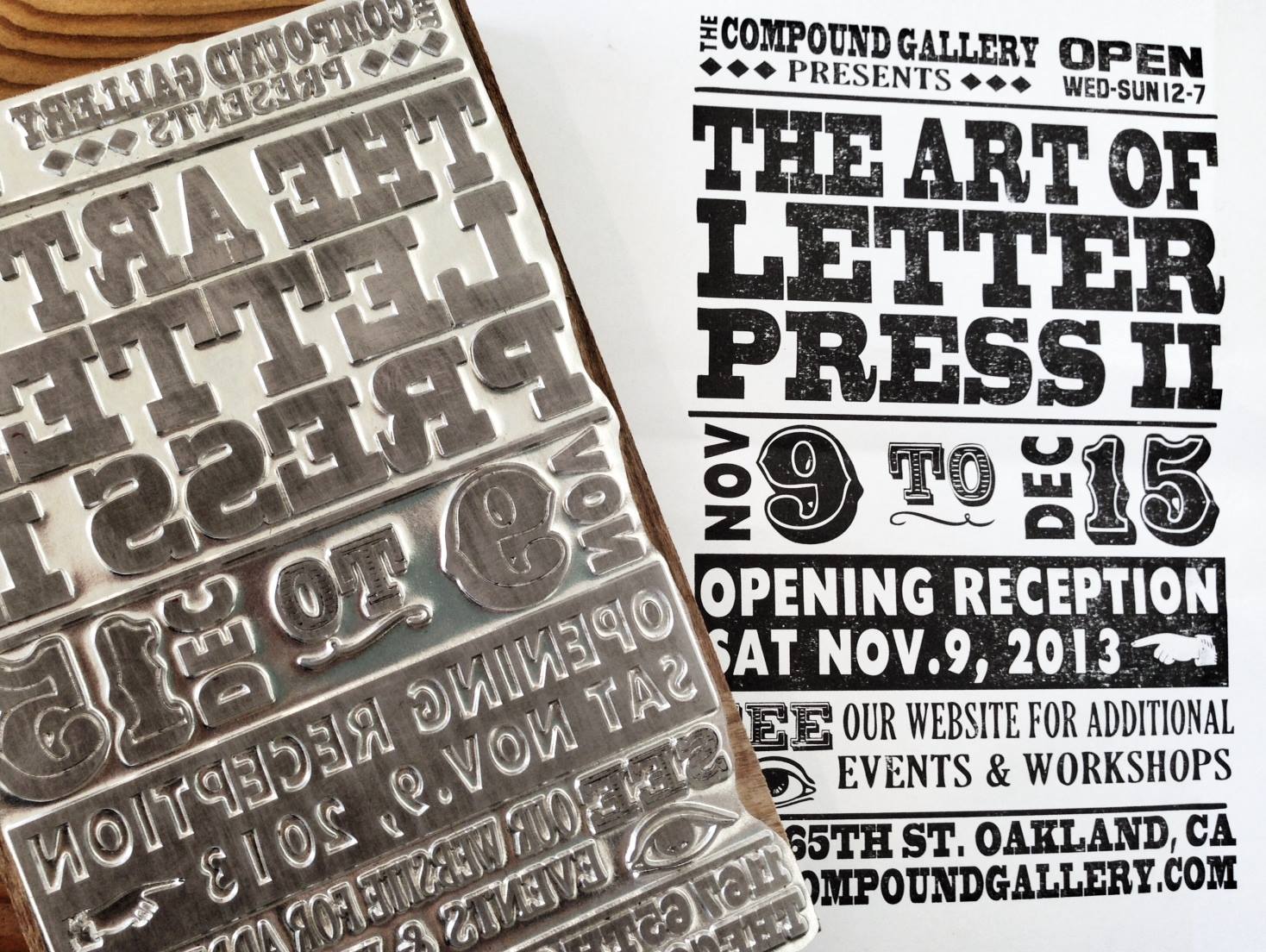 29 Sep

The Art of Letterpress II (November 9th-December 15th)
The Art of Letterpress II
(November 9th-December 15th, 2013)
Opening Reception: Saturday, November 9th, 6-9pm
Artist Panel & Closing Tea: Sunday, December 15th, 3-6pm
Featuring work by: Amos P. Kennedy Jr. (Kennedy Prints), Kevin Bradley (Church of Type), Brad Vetter, Bryan Kring, Carrie-Ann Plank, Casey Gardner, C.K.Itamura (Peach Farm Studio), David Fullarton, David Johnston, David Spiher, Defne Beyce, Dennis Peterson, Elizabeth Boyne, Emily Alden Foster, Amy Burek, Giselle Brewton, Jabari Jones, Jarin & Catherine Bossert (District Dogs Designs), Jeanne Lorenz, Johnny Brewton (X-Ray Book Co.), Laurie Szujewska, Lisa Rappoport (Littoral Press), Macy Chadwick, Marshall Elliot, Mary Marsh, Mary Mortimer, Matt Runkle, Matthew Scott Gualco, Meri Page, Nicholas Kanozik, E. Oscar Maynard, Rebecca Peters, Robin McDowell, Studio Lorzig, Tom Scarpino, Vida Sacic, Volta Press, Zach Clark….and more!
The Compound Gallery in Oakland, CA is pleased to present the second installment of our convivial celebration of all things letterpress! The Art of Letterpress, an exhibition highlighting the bygone era of letterpress printing.  A visual panegyric in honor of this distinctive form of artistry, The Art of Letterpress II expands on our first show both geographically and approach.
Today, we text, email, and print at the touch of a button, making it easy to forget how labor intensive it was to simply make a sentence and reproduce it multiple times.  The characteristic texture, ink, and surface of letterpressed text declares it an antiquated champion of typography,
Although letterpress printing is often overlooked as a form of fine art, the Art of Letterpress II highlights both the technical skills of hand setting type, as well as less traditional methods of using the letterpress as form of art. Typography was once used to express both language and visual imagery, and the process involved in producing prints involved both craft and artistry. This exhibition features the work of artists who print using a variety of surfaces (lead/wood type, magnesium, photopolymer) using a letterpress.
During the opening reception, we will be printing on a Vandercook proof press and distributing free prints to visitors. In addition to the show in the main gallery, our studios include seven working letterpresses which will be open for visitors to view. During the course of the exhibition, we will be offering letterpress workshops taught by exceptional letterpress artist Rebeccca Peters (see our website for dates and rates) and a free film screening of the new documentary Linotype on Friday, November 22nd at 8pm.
Renowned letterpress artist Amos Paul Kennedy Jr. was once a computer programmer, but realized his passion for printing and decided to make printing a reality. He recently moved his print shop to Detroit where he is setting up his Detroit Printing Plant. Kennedy recently had his series of Rosa Parks prints featured at the Rosa Parks Museum in Montgomery, Alabama for Rosa Parks' 100th anniversary.  The Art of Letterpress II will feature many of his prints from his Rosa Parks series, as well as his other works. Kennedy is also the feature of a recent documentary titled Proceed and Be Bold!
The Church of Type is the new Letterpress Studio of Kevin Bradley, one of America's most prolific letterpress printmakers since 1994. His work has been instrumental in redefining the idea of contemporary letterpress in America, from his early days at Hatch Show Print in Nashville, to his 15 year run as the founder of Yee Haw Industries in Knoxville,TN.  The Church of Type is Bradley's newest venture, moving 20 tons of letterpress equipment across the country to the city of Los Angeles, California, to bring his own vision and style to the epicenter of American Culture. The Art of Letterpress II will feature some of Bradley's large scale letterpress prints.
Lisa Rappoport is a Bay Area artist who publishes poetry broadsides and artists' books and has produced a series of broadsides by the poets who teach at the Squaw Valley Community of Writers; she has also printed poetry broadsides for Lawrence Ferlinghetti and City Lights Books, Lyric Poetry Review, and many others.
In addition to a display of various letterpress prints, bins of small prints, books, and broadsides, this exhibition will feature timeworn letterpress paraphernalia, ephemera, equipment, and more.
SUBMIT YOUR LETTERPRESS TO OUR NEW WEBSITE LETTEPRESS PARADE!