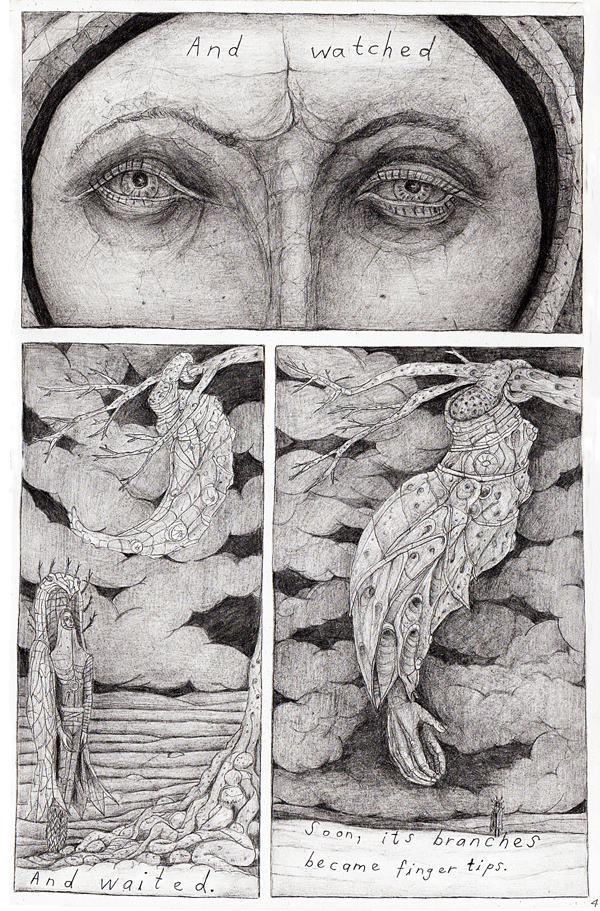 30 Jul

The Artist as Storyteller (July 21st-August 19th, 2012)
The Artist as Storyteller
(July 21st-August 19th, 2012)
Opening Reception: Saturday, July 21st, 6-9pm
Closing Tea: Sunday, August 19th, 3-6pm
Featuring: Pamela Matsuda-Dunn, Matthew Pugh, Alison Tharp, John Watson, and Michelle Wilson.
Curated by Alison O.K. Frost
This group show presents the artist as storyteller, and includes multi-panel pieces that work sequentially to create a narrative. Ordering pictures and words to tell a story is an impulse that appears throughout history. Egyptian hieroglyphics were created directly on walls, often depicting daily life, while pre-Columbian Mayan and Mixtec cultures created historical picture manuscripts (pictoral scenes with glyphs) on deerskin. The ancient Greeks used vases and friezes to convey myths. Japanese scrolls allowed stories to literally unroll in picture form in the 11th century, as did English tapestries such as the Bayeux, woven in the 1070s, which depicted the Norman conquest of England.
In contemporary culture, the most common picture-and-word storytelling is found in movies and television, followed by comic books and graphic novels. These forms have been codified over the last century, so that narrative traditions exist—from the 3-act film to talk balloons in comic strips. The artists presented in this show walk the line between fine art and visual storytelling.
This show will be a unique and engaging collection of stories that are sequentially narrated in visual. The pieces allow the viewer the satisfaction of completion—a full story is presented, rather than hinted at as often happens in narrative visual art. However, as the viewer is drawn in to each narrative, they are also drawn into the artist's unique way of telling the story, rather than a cultural normative system.