13 Aug

The Corporation: New work by Dan Nelson
The Corporation
New work by Dan Nelson
(August 26th-October 15th, 2017)
Opening Reception: Saturday, August 26th  6-9pm
Closing Reception & Artist Talk: Sunday, October 15th 3-6pm (Talk at 4pm)
An Interdisciplinary exhibition of corporate culture and perception. Check out #thecorporationart on Instagram to follow Dan's progress and inspiration.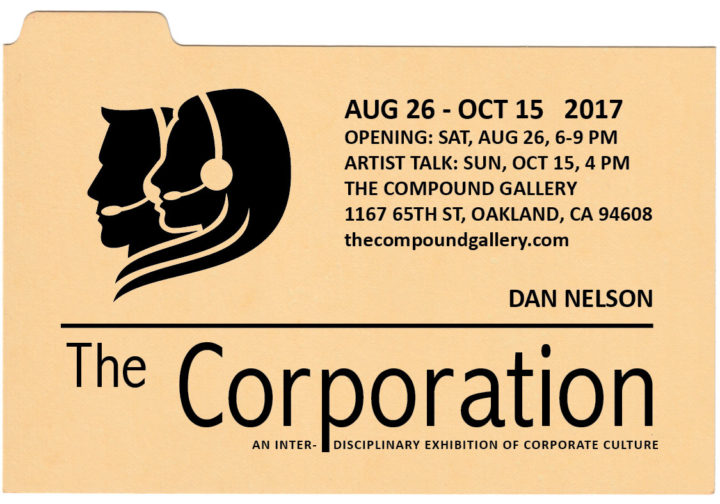 The conceptual artist and author of the McSweeney's book "All Known Metal Bands" explores the culture and aesthetics of the world of corporations and day jobs in a wide-ranging interdisciplinary show.
Based on Nelson's experience working at a successful start-up in Emeryville from 2009-2015, the show explores the culture and aesthetics of the corporate world in a wide-ranging show with over 120 works of video, photography, sound art, text-based works, posters, sculptures, interactive pieces, and paintings.
A limited-edition 64-page book of the same name will be launched at the show's opening, which includes photographs taken in offices and warehouses, corporate haiku written during long meetings, spam email promotions, digital collages, office humor, and more.
The book and the gallery show highlight a number of current themes in American life: corporatism, neo-liberalism, greed, boredom, chaos, futility, plastic, cardboard, dysfunctional hierarchies, and the color beige.
About: Dan Nelson is an interdisciplinary artist, musician, and author who plays with words, symbols, signals, and sounds to explore how humans communicate and create meaning. His large-scale, multifaceted work includes video, photography, sound art, text-based works, sculptures, and painting. His most well-known work is "All Known Metal Bands," a 300-page list of 51,000 heavy metal band names published by McSweeney's. He has been involved in the Oakland art scene since 2002, and lives and works in Oakland, California.