09 Jul

Yelling Clinic (September 13-October 6, 2008)
"Yelling Clinic"
(September 13, 2008-Ocober 6, 2008)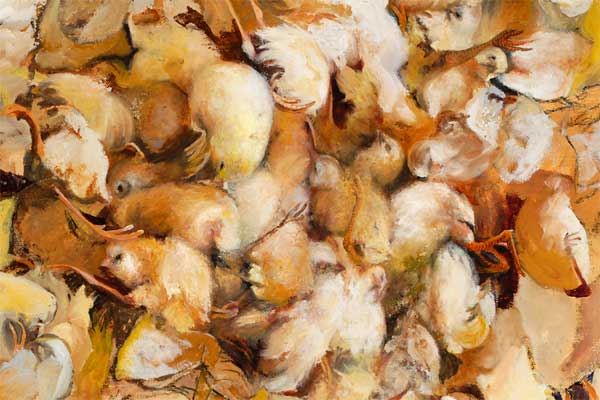 Opening Reception: Saturday September 13, 2008 6-9pm
Educational Tea: Sunday September 21, 3-5pm
(with Nam Tran Nguyen, Chau Thuy Huynh, and Kieu Linh Caroline Valverde)
In her 1859 book Notes on Nursing: What It Is and What It Is Not, Florence Nightingale wrote, "Little as we know about the way we are affected by form: by color and light, we do know this, they have an actual physical effect. Variety of form and brilliancy of color in the objects presented to patients are actual means of recovery. People say the effect is only on the mind. It is no such thing. The effect is on the body, too." We additionally believe yelling can help.
The Compound Gallery is pleased to announce a group show by the art and disability collective YELLING CLINIC. Their first international project centers on the American legacy of military pollution in Vietnam and its multi-generational affects on disabled people there. The artists included are:
Chau Thuy Huynh was raised in Vietnam as a Communist propaganda artist. After she moved to America at the age of 27, her artistic restrictions were removed and she began exploring Vietnam from a different perspective. For this show, she is exhibiting a drawing from her series An Nguyen's Story, entitled Soul Catcher, that are taken from her interviews with a Vietnamese Boat survivor.
Sunaura Taylor uses her background as a disabled person whose disability was caused by US military pollution and her life long dedication to animal ethics, to explore issues of value, suffering and person-hood. Her painting Culled Male Chicks in a Dumpster, represents hundreds of newly hatched male chicks, who have been discarded and left to die. They are of no use to industry and so they are seen as valueless. Her work exposes the parallels between how animals and disabled people are treated, metaphorically co-opted, valued and devalued.
Ehren Tool, makes and decorates cups. He will be showing Charlie Company. The cups are displayed in units; fire teams, squads, platoons, and companies. If the unit sells it lives forever as art, as a unit. If the unit does not sell it is redeployed and eventually the officers are decommissioned and the unit is disbanded. The cups die alone as fun time hobby craft.
Katherine Sherwood, the guest curator, is mixed-media painter and a disability scholar. For Vietnam, she is working a series of prints entitled joybringers. Hoa Mai will be available through the gallery with all the proceeds going to Yelling Clinic.
[slideshow id=6]
Also Showing in our Artist of the Month Gallery:
Work by David Spiher