03 Jun

Alison Tharp: Adult Situations With the Paranormal

October 19-December 8th, 2019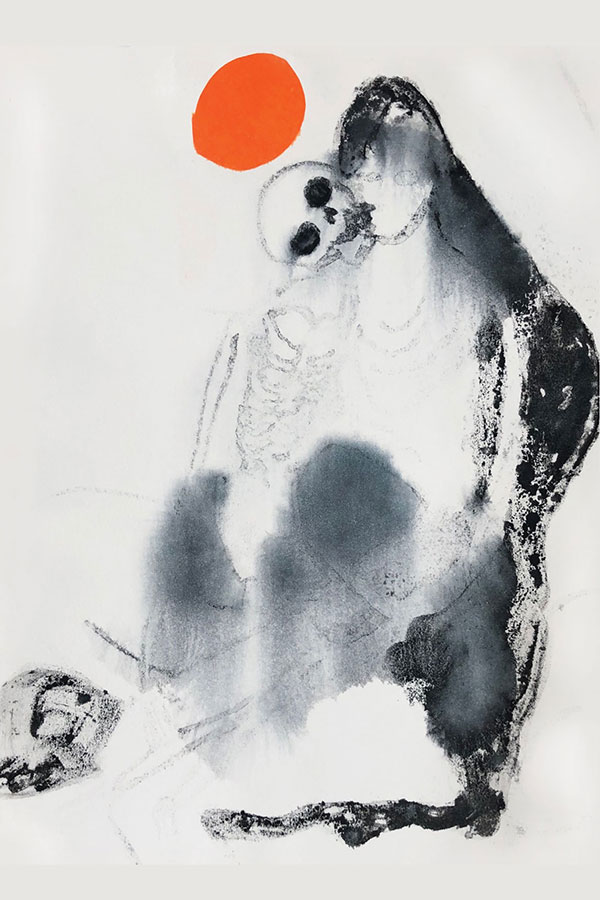 OPENING RECEPTION: Saturday, October 19th 6-9pm
ARTIST TALK: Sunday, December 8th 3-5pm (Talk at 4pm)
Solo show by Alison Tharp
ARTIST TALK DECEMBER 8th 4pm: Join us on the last day of Alison Tharp's solo show and hear about Alison's inspiration. Bring a smart phone if you would like to participate. Alison will guide you to download a ghost hunting app to have on during the talk. Hopefully you can meet your own ghosts! This talk is for those 18+.
Join us for our last show of our 2019 season. There will be peculiar perspectives and spooky spirits, hand painted supernatural stoneware ceramic urns and vessels…
"Sometimes the channels on the TV would start changing on their own. Dishes would fly off the counter and shatter in the middle of the kitchen. Out of the corner of my eye, figures walked around the house from room to room. My family heard voices. Our video games would play by themselves in the middle of the night. I grew up in a haunted house. It was disturbing and very stressful as a little kid but what a powerful effect it had on my creative life as a an adult! It made me start asking the big questions at a very early age. I wasn't afraid to die because as a ghost, you can still play Nintendo and watch TV so what's the big deal? And yet most people wouldn't want to move into a home if they knew it was haunted. Most wouldn't. But I know some who would.
Ghosts like to manifest themselves in art and in our lives all the time. They play dress up, they take the form of our dirty thoughts, they look like little devils and little deviled eggs. They sometimes stretch around corners like marshmallow ectoplasm and steal your socks. You didn't exactly hate it, did you? They live in rooms we don't go into often. They get blamed for the messes we make and desires we wish we didn't have. They like bath time and hate sleeping, in my experience, anyway. They might be lonely. You and your partner might want the company, too. Ghosts are perverse just like people. A haunted house might be what you need to put the spark back in your relationship or just keep it burning bright. What happens in those bedrooms or kitchens or living room floors will probably change your life in very unforgettable ways. Keep the TV on. They like that. Cause of death doesn't matter, a kinky ghost is a fine addition in any adult situation. Find an experienced realtor who deals in haunted homes exclusively. I have one I like and would happily recommend.
The new work in this show consists of mixed media monotypes. Some of the layers are lithographs, transfer paper along with drawings in ink and graphite and chine-collé, a technique for placing tissue paper into a monotype.

The stoneware vases and urns I've painted depict parades and parties, corsets and heels, horse costumes and bird cars. They are for my friends who have passed away. I have weird friends I'm proud to say, living and gone. The confetti in the street after a good parade sticks to your shoes and gets in your hair. You find it later in strange places!
I started drawing as soon as I could hold a pencil and haven't stopped yet. We grew up without a lot of money so my family didn't go on exotic vacations or do much traveling. My artistic inspiration came from observing my immediate environment down to its tiniest detail. Public pools, mini marts, fast food restaurants, country fairs, malls, consumer culture, my neighborhood, my creepy neighbors, the seasons changing, sticking my head in the freezer at the grocery store during oppressive Stockton summers. The cereal isle. I was obsessed with Halloween.
I attended the California College of the Arts in Oakland and San Francisco for painting and illustration in 1998. After a year I dropped out to become part of the East Bay punk scene. I dedicated my time to making zines, designing flyers and t-shirts, and creating DIY art shows everywhere I could find a spot. It doesn't seem that long ago! I've shown my art in some strange places like parking lots, mausoleums, warehouses, my car. I've had the honor of showing in beautiful galleries around Oakland and San Francisco over the years as well.
My work draws heavily on my childhood, vivid dreams and my sensitivity to the paranormal and interest in the occult. My sense of humor and love of all dingy celebrations play a role in my work. I've worked in watercolor, oil, acrylic, pen and ceramics. I've enjoyed making a live art TV show called "Tharp World" which can be seen on YouTube. I highly recommend it! I'm working mostly as a printmaker these days. It's fun to see where the work takes me. It seems to have a mind of its own."