12 Nov

Apples & Oranges: Audrey Roy & Matt Reynoso (February 13-March 9, 2009)
Apples & Oranges
Audrey Roy & Matt Reynoso
First Friday (Closing) Reception:
Friday, March 6, 2009, 7-10pm
Apple & Orange Eating Contest (to Iron Maiden)! Eat Apples! Eat Oranges!
Win PRIZES! (see Rules Below)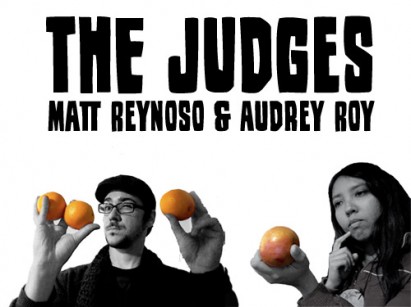 Official Rules:
1. Apples & Oranges may not enter
2. 75% of an apple must be eaten.  Apples are only 25% core.
3. 90% of an orange's pulp must be eaten
4. Do not squirrel fruit slices away in your pockets.
Cheeks  are  acceptable  places for storage.
Schedule:
7:00pm Doors open
8:30pm Eat as Many Apples as you can in 3 Minutes
9:00pm Eat as many Oranges as you can in 3 Minutes
9:30 Championship Round-5 minutes
10:00pm Gallery closes.  Winner is brought to the hospital if necessary
[slideshow id=12]

(February 13-March 9, 2009)

Audrey Roy and Matt Reynoso investigate the deeper sides of two of our favorite fruits…Apples and Oranges! Reynoso's rustic carved relief mixed media explores the iconic apple in sculptural and 2-dimensional forms and Roy's playful graphic oranges can be found in every imaginable situation—dangling from trees or exploring the final frontiers of space.   Shake that winter cold and warm up with our fruitiest show ever!  Apples and Oranges…..They're Different!

**Also Showing in our Artist of the Month Gallery:

Ambur Mueller's Beasts of Adoration