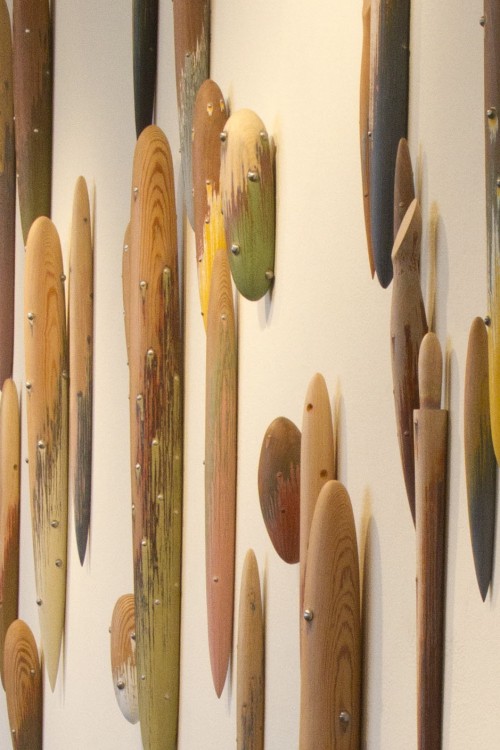 19 Apr

Charmers: Christopher Romer (March-April 2011)
Charmers by Christopher Romer

(March 12th-April 24th, 2011)
[slideshow id=50]
Artist Talk and Closing Tea: Sunday, April 24th, 3-6pm
(Talk starts at 4pm)
Hailed as the "star of the show" by John Hazlehurst of the Colorado Springs Independent, sculptor Christopher Romer's The Charmers land in Oakland's Compound Gallery.   For his second show at this venue, Romer takes viewers into an expansive installation of wooden wall pieces—turnings of various shapes and sizes that are painted, sanded and embellished.  Produced over a 10-year period, this is the largest gathering of The Charmers shown to date.
Inspired by the quintessential American artifact, the wooden fish decoy, these  oblong shapes, randomly scattered across the gallery's walls, recall common features of the natural world and carpentry.  Together, they resemble swarms of insects released from a jar that have landed on the wall, depositing themselves high and low, singly or in sundry clusters.
Made from North American woods, each piece is fashioned from reclaimed material, such as old baseball bats, chair and table legs, ceiling joists, beams, posts, doors, windows and pallets.   Once shaped, a deliberate process of sanding away the paint then produces fantastic patterns and pigmentation.   For Romer, this process is analogous to "a powerful metaphor for the all-pervasive pounding down of life, the harshness of the elements, and the passage of time."  Paradoxically, this very notion of the harshness, and the 'pounding down of things,' supercharges another powerful and constant aspect of these pieces: the sensuous and erotic associations in the rolling curves and surfaces.
Now living and working in Berkeley, Christopher Romer first studied at Chelsea School of Art in England, where he grew up.  He received his MFA from the School of the Art Institute of Chicago, and later taught and practiced in New York.  Romer is the recipient of numerous awards and fellowships, and has exhibited widely throughout Europe and the U.S.  For more information about the artist, visit www.christopherromer.com.  The Charmers will be on view at The Compound Gallery in Oakland from March 12 through April 24.  Opening reception on March 12, 6-9 pm; Artist Talk and Closing Tea on Sunday, April 24, 3-6 pm.