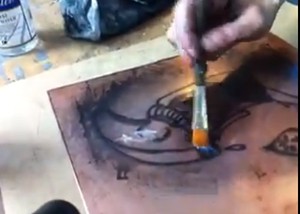 31 Jul

Compound Art TV in the SFWeekly

Back in the 1980s, our lazy Saturday afternoons were filled with episodes of Bob Ross bringing together happy shades of sky blue and jovial forest greens on giant canvases. And while we were likely chowing down on a bag of chips as we watched his paintings progress, we always learned something and were always impressed by the end product: an entire landscape in under an hour. 

How did he do it?


And while YouTube is great for learning various painting techniques, there's something to be said for a TV series that dedicates itself to all-things-art. So we were pretty excited when we learned about, not just a new art show, but an entire web-based art channel: Compound Live Art TV. Produced by the Compound Gallery & Studios in Oakland, the channel features performances, artist interviews, critiques, demos, and even chicken feeding (which maybe isn't directly arts related, but we'd watch).

We sat down to view the most recent episode of Tharp World, where the host —  artist Alison Tharp — taught the audience how to etch. The (nearly) hour-long show was endearing and enlightening — just like those Bob Ross days. Tharp World streams live at 6 p.m. on Wednesdays, and further Compound Live Art TV programming schedules can be found on the Compound Gallery site. And yes, you can also find previously streamed episodes on YouTube.