09 Nov

Holidayland Gift Sale (South) December 5-15
Holidayland Gift Sale
(Southpole)
Holiday Cheer Reception:
December 14, 4-7pm
Featuring lots of fun holiday surprises!
Extended gallery hours during the sale
Sat-Mon 12-7pm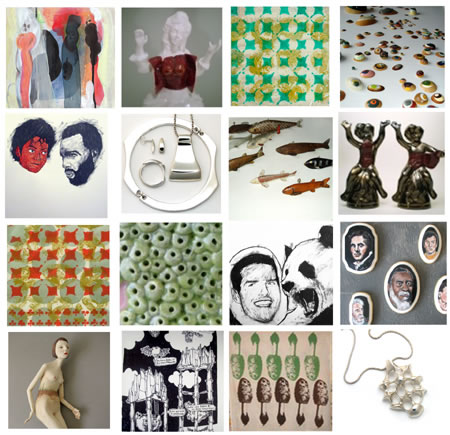 Join us for a fun and festive Holidayland event. This gift sale has become a Blankspace tradition and this year we are happy to announce that The Compound Gallery will be teaming up with Blankspace! The Compound Gallery (Southpole) and Blankspace Gallery (Northpole) will be joining Holiday forces to create an Art Extravaganza! This year we will offer even more great original artwork, jewelery, handmade crafts, accessories, cards, ornaments, tote bags, and much, much more.
Both Galleries will open the same hours and will be hosting receptions at the same times. All art will be available for immediate purchase (cash & carry).
Plus, come by during one of the two Holiday cheer receptions and enjoy the fun music, festive food, seasonal libations and holiday surprises!!
The best original and thoughtful gifts for the ones you love can be found at Holidayland.
Shop local, support small business this Holiday Season.
[slideshow=10]
Participating Artists: Adrian Van Allen, Adrian Varnes, Alissa Goss, Ambur Mueller, Mr. Ben Venom, Bob Denman, Christopher Romer, Claudia Bauer, Crystal Morey, Elysa Fenenbock, Eric Sanchez, Freya van Dien, Gabriel Nansen, Gina Pericini, Jake Gillespie, Kari Marboe, Lena Reynoso, Matt Reynoso, Noah Sakamoto, Obi Kaufmann, Paul Murphy, RedStart Design, Sara Christian, Steven Barich, Tallulah Terryll, and more…