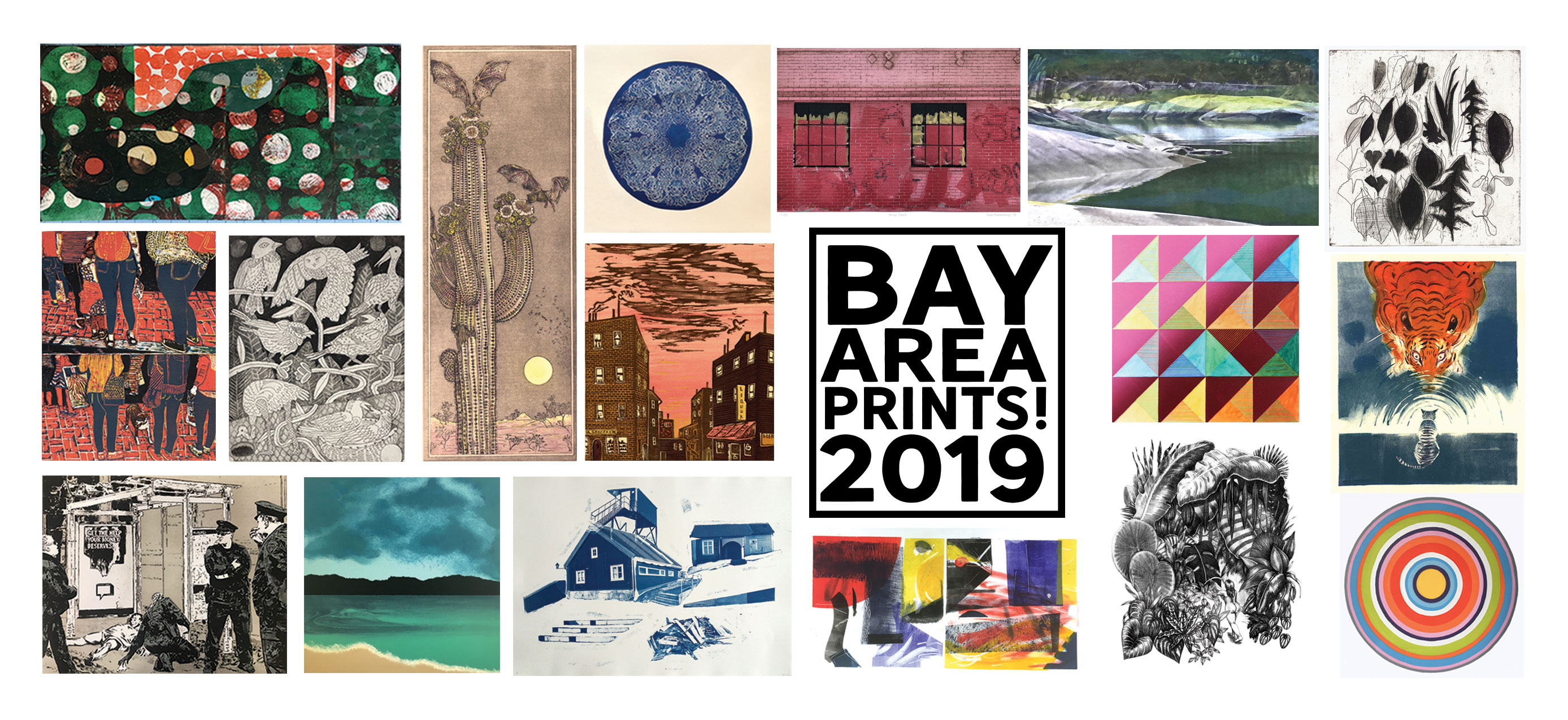 05 Feb

Bay Area Prints 2019

 June 8th-August 4th, 2019

The Compound Gallery is pleased to announce BAY AREA PRINTS! an art exhibition featuring works by Bay Area printmakers. Cash awards, provided by Bay Area print collectors Fred and Louise Neal. Featuring 100 Bay Area artists, this show serves as a venue to educate the public on the varied techniques employed in printmaking and encourage the interest and public support of these artists by acquiring their work.  Over 1,000 prints in our print racks! Visitors will have a chance to vote on their favorite works and winning artists will be given cash prizes (see below).  Last day for Audience Choice voting is July 14th, 2019.  The opening reception will be held on June 8th, 2019 and there will be an afternoon reception with participating and prize winning artists and print collectors/prize donors Fred and Louise Neal held on Sunday, July 21, 2019.

Featuring work by: Onye Ahanotu,  Siavash Almeida, Latifat Apatira, Vivien Arnold, Kai Augustine, Kelly Autumn, David Avery, Peter Baczek, Brandin Barón, Susan Belau, Tim Belonax, Amber Biscevic, Miicah Black, Carol Brent Levin, Meredith Brown, Kristen Brown, Donna Brown, Amy Burek, Mary Burger, David Call, Alex Carroll, Anjelica Colliard, Gary Comoglio, Rita Davies, Paola de la Calle, Melanie Dorson, Jessica Dunne, Barry Ebner, Beth Fein, Peter Foley, Suzanne Frazier, Nate Fredenburg, Joan Karissa Gallego, Steve Green, Emily Gui, Kevin Harris, Ryan Harrison, Art Hazelwood, Whitney Humphreys, Christine Innes, Sharon Jue, Claire Kessler-Bradner, Sanaa Khan, Shani Krevsky, Geneviève L'Heureux, Lorraine Lerman, Stephen Longoria, Max Marcil, Barbara Maricle, Nichol Markowitz, Mary V. Marsh, Kara Marson, Jill McLennan, Bernadette Milan, Robin Miliken, Kate Mink, Keisha Mrotek, S. Kendall Osborne, Cindy Ostroff, Karen Palamos, Nora Pauwels, Jeff Petersen, Thitiwat Phromratanapongse, Allison Ping, Meg Pohlod, Gross Grain Press, Tina Pressler, Ambrose Prince, Anna Rochester, Eric Sanchez, Tom Scarpino, Harry Schneider, Stephen Schumm, Keith Secola, Andrey Semyonov, Deborah Sibony, Savanna Snow, Ethan Snyderman, Sylvia Solocheck Walters, Chuck Sperry, David Spiher, Dean Stuart, Colleen Sullivan, Sylvia Sussman, Lauren Szabo, Nick Szabo, Susan Tibbon, Allison Tinney, Amy Torgeson, Max Valentine, Miles Vich, Sandy Walker, Evka Whaley-Mayda, Michelle Wilson, Thomas Wojak, Krista Wright, Joanne Yeaton, Dana Zed, Haoyun Erin Zhao, Daevron
JUROR'S CHOICE WINNERS!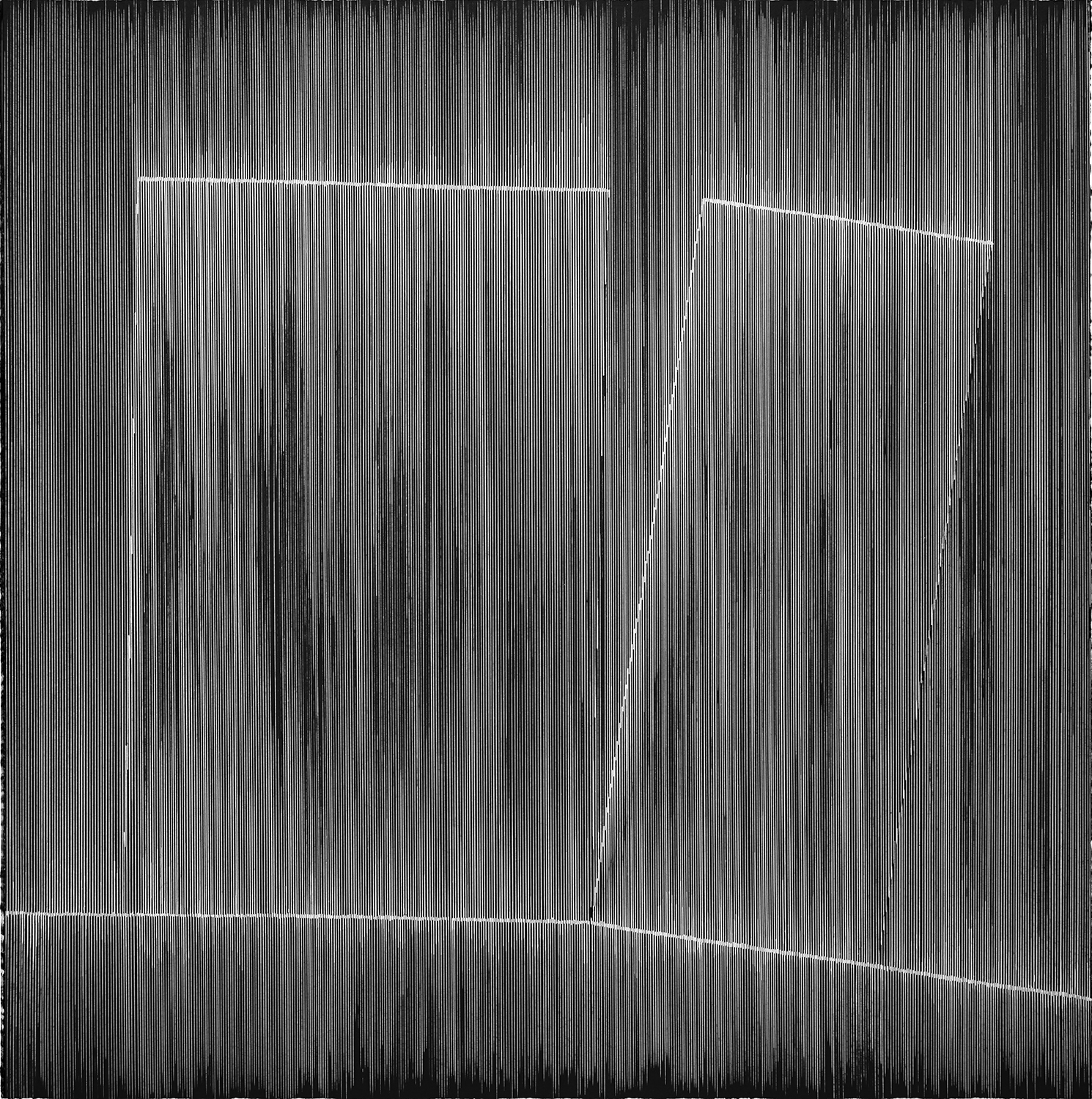 1st PLACE
Geneviève L'Heureux
Fracture III, second state
Etching, aquatint on Somerset paper
22.25″ x 22.5″
Edition of 4
2017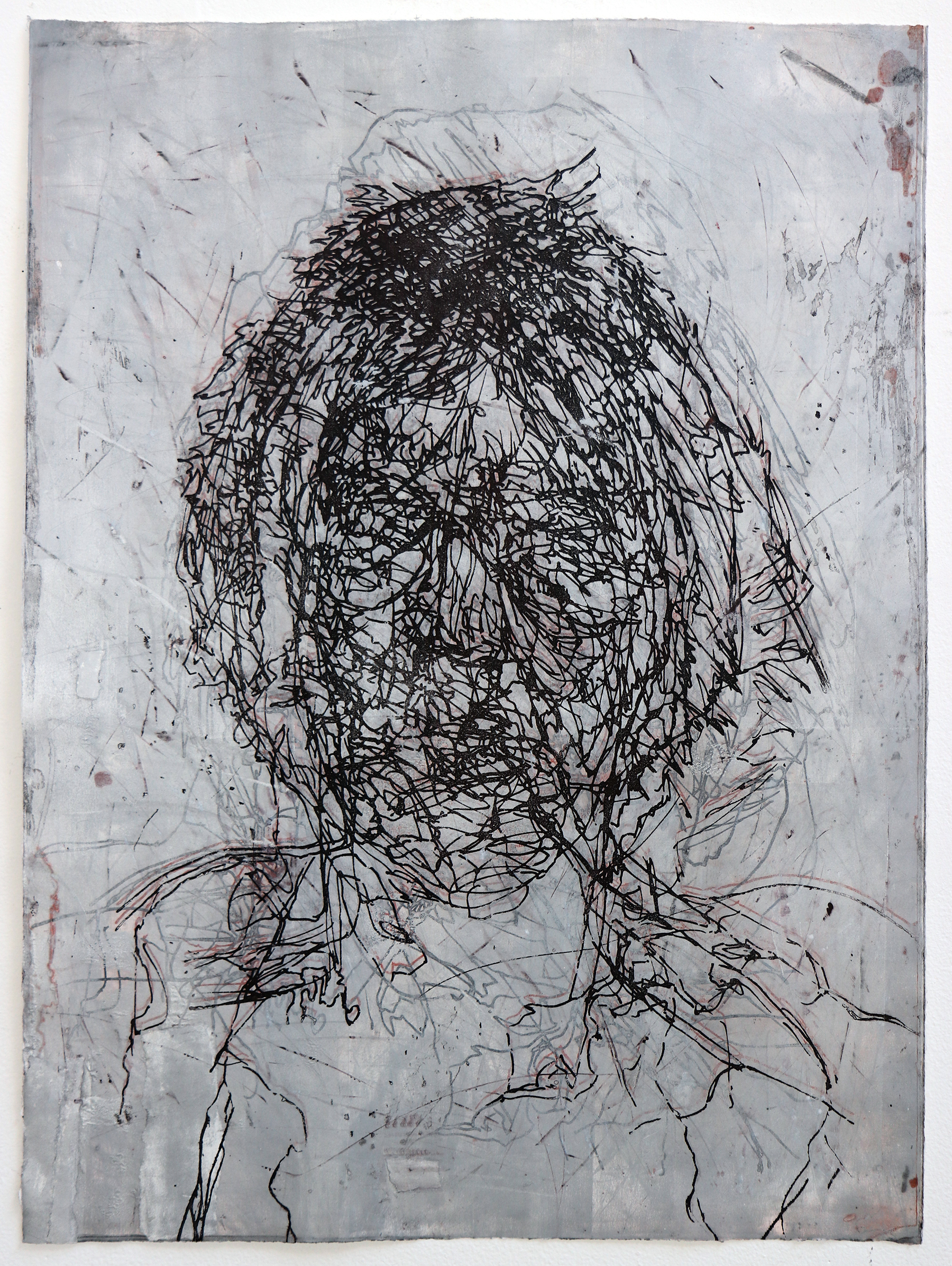 2nd PLACE
Alex Carroll
Self-Portrait, Delineated (Unique State #6)
Etching and monotype
31 in. x 22.5 in.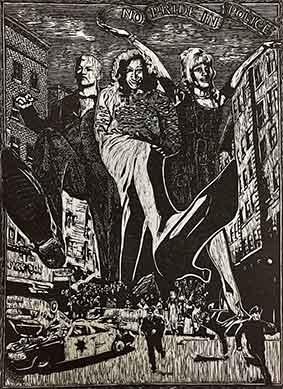 3rd PLACE
Daevron
Dissident Divas
Linocut
8×10 (framed 18″x 22″)
Edition of 5

1st PLACE
Susan Tibbon
Saguaro Cactus
Intaglio
Unframed 23″ x 28″ / Framed 25″ x 30″
E/V of 18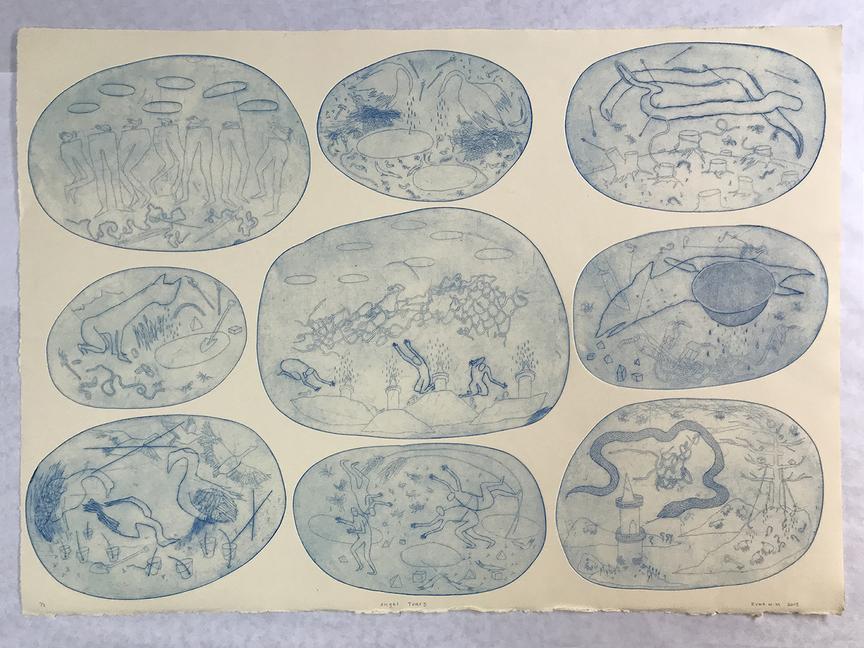 2nd PLACE
Evka Whaley-Mayda
Angel Tears
Hardground etching
22″ x 30″  (23″ x 31″ framed)
Edition of 2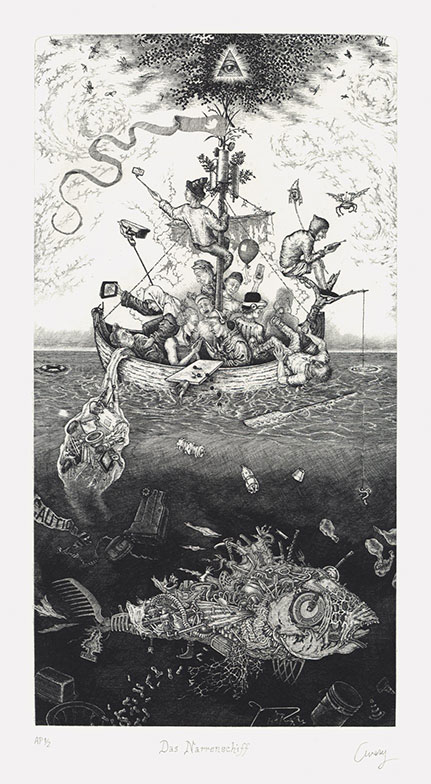 3rd PLACE
JUROR
Colleen Terry is associate curator of the Achenbach Foundation for Graphic Arts at the Fine Arts Museums of San Francisco. She is the author of Artful Animals and a contributor to Jewel City: Art from San Francisco's Panama-Pacific International Exposition and Ed Ruscha and the Great American West.
*The Compound Gallery will select entries to participate in the show.  Colleen Terry will attend the show (before the opening reception) and select 3 works to receive monetary prizes.
AWARDS
$1,000 in awards will be distributed as follows:
JUROR AWARDS: The Juror will select her choice of Best in Show and the winning prints will be revealed at the opening reception. Only framed pieces will be judged (Prints in sleeves will not be part of the judging). Invited artists are not eligible to receive a JUROR AWARD.
AUDIENCE CHOICE AWARDS: Visitors to the gallery will have a chance to select their favorite work.  Voting will close on July 14th, 2019 and winners will be announced on July 21, 2019. Invited artists are eligible to win an AUDIENCE CHOICE AWARD. Only framed pieces will be judged (Prints in sleeves will not be part of the judging).
JUROR AWARDS
(Selected by the Juror)
1st PRIZE: $250
2nd PRIZE: $150
3rd PRIZE: $100
AUDIENCE CHOICE AWARDS
(Selected by visitors to the gallery)
1st PRIZE: $250
2nd PRIZE: $150
3rd PRIZE: $100