02 Jun

The Thing – Tuesday, April 28 at 8pm

The Compound Gallery Experimental Music Series by jimzeen productions and Outsound Presents

8 pm – "THE THING" with Mats Gustafsson (STOCKHOLM) – Reeds / Ingebrigt H. Flaten (OSLO) – Bass / Paal Nilssen-Love (OSLO) – Drums

The stellar free-style improv trio from Norway and Sweden on a rare United States tour.  This is their only Bay Area concert.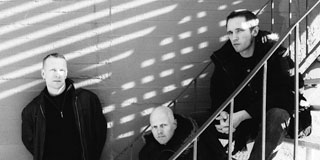 tuesday • april 28 • 09  8pm • 2 sets • donation
The Thing was established in  February 2000 when the three musicians met to play several concerts and to record the first CD on Crazy Wisdom, a sub label of Swedish Universal.  The trio was a long-awaited constellation where several musical styles met in a very high energy outlet. All members are influenced by different traditions of free music derived from Germany, England and America, and these influences are to be felt, tho not necessary heard.  The Thing is now signed on the Norwegian label Smalltown Supersound.
Mats Gustafsson is today one of Sweden's and Europe's biggest names on the free music scene and has somewhat reinvented the way the saxophone is played.  Ingebrigt Håker Flaten and Paal Nilssen-Love have become known as Norway`s heaviest rhythm-section.  Their long time collaboration started in 1992.
"The Thing convert's nouveau punk and vintage garage-rock into a roaring scream-up, but the sheer energy and love of the music keep gimmickery at bay" Uncut
"The sheer power they generate from wood, metal, breath and muscle is stunning" BBC
"Absurdly cool" DJ Magazine