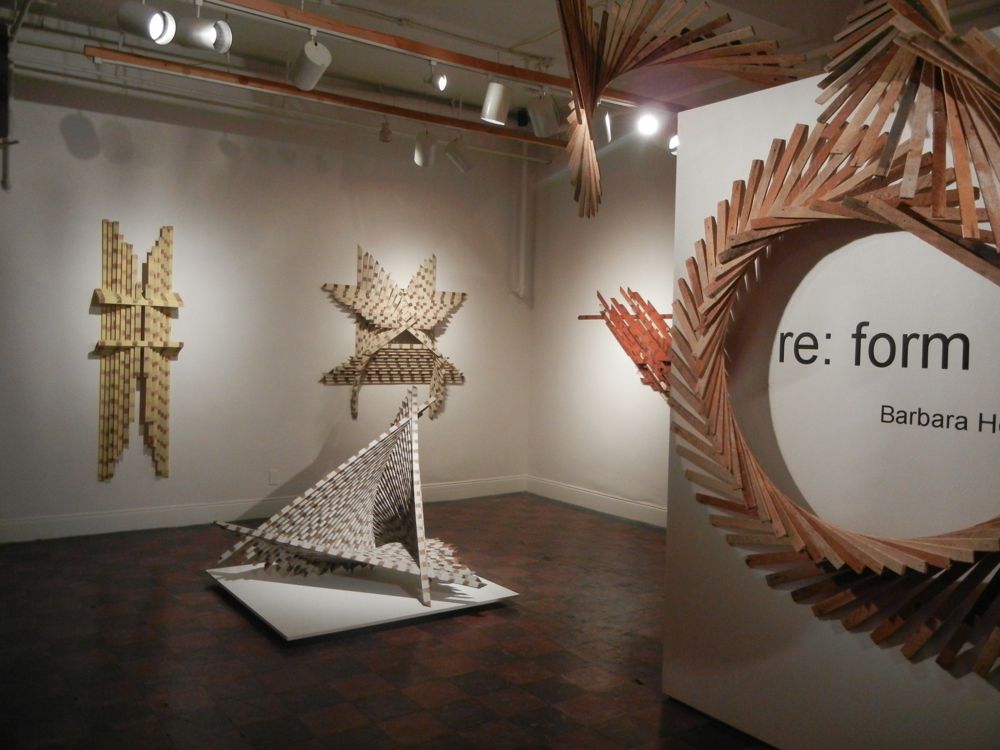 30 Aug

re: form New work by Barbara Holmes (October 6th-November 4th, 2012)
re: form
by Barbara Holmes
(October 6th-November 4th, 2012)
Opening Reception: Saturday, October 6th, 6-9pm
Closing Tea & Artist Talk: Sunday, November 4th, 3-6pm (talk at 4pm)
Using waste material that is often untidy and muddled in appearance and redeeming it into a carefully crafted object is a pleasurable part of Barbara's process, altering prior cast-offs into something of value and beauty, an act of optimism.
Barbara has been collecting and working with the discarded remnants from renovated homes for the past ten years.  Recently, the regular size and linear qualities of lath (from lath and plaster walls) and lattice (from gardens) have captured her attention for realizing new forms and creating large scale installations.
These works are not born from an intellectual or conceptual standpoint, but rather an instinctual and intuitive response to material.  From the outset, she set the simple parameter of using the lath and lattice in its found state.  No cuts or alterations to the individual pieces have been made, they are simply gathered and cleaned, old nails and staples pulled.  The sticks of wood are sometimes ordered by length or color, but all are reassembled and attached with staples or nails in much the same way they were attached originally, within the walls of homes and as plant climbing barriers in gardens. Barbara's intent is to allow these reclaimed materials to retain their intrinsic qualities while giving them new context in form.  The accidental fractures, painted patterning, and patinas of age are a part of their draw, giving us a subtle account of natural wear and human interventions over time.
[nggallery id=79]