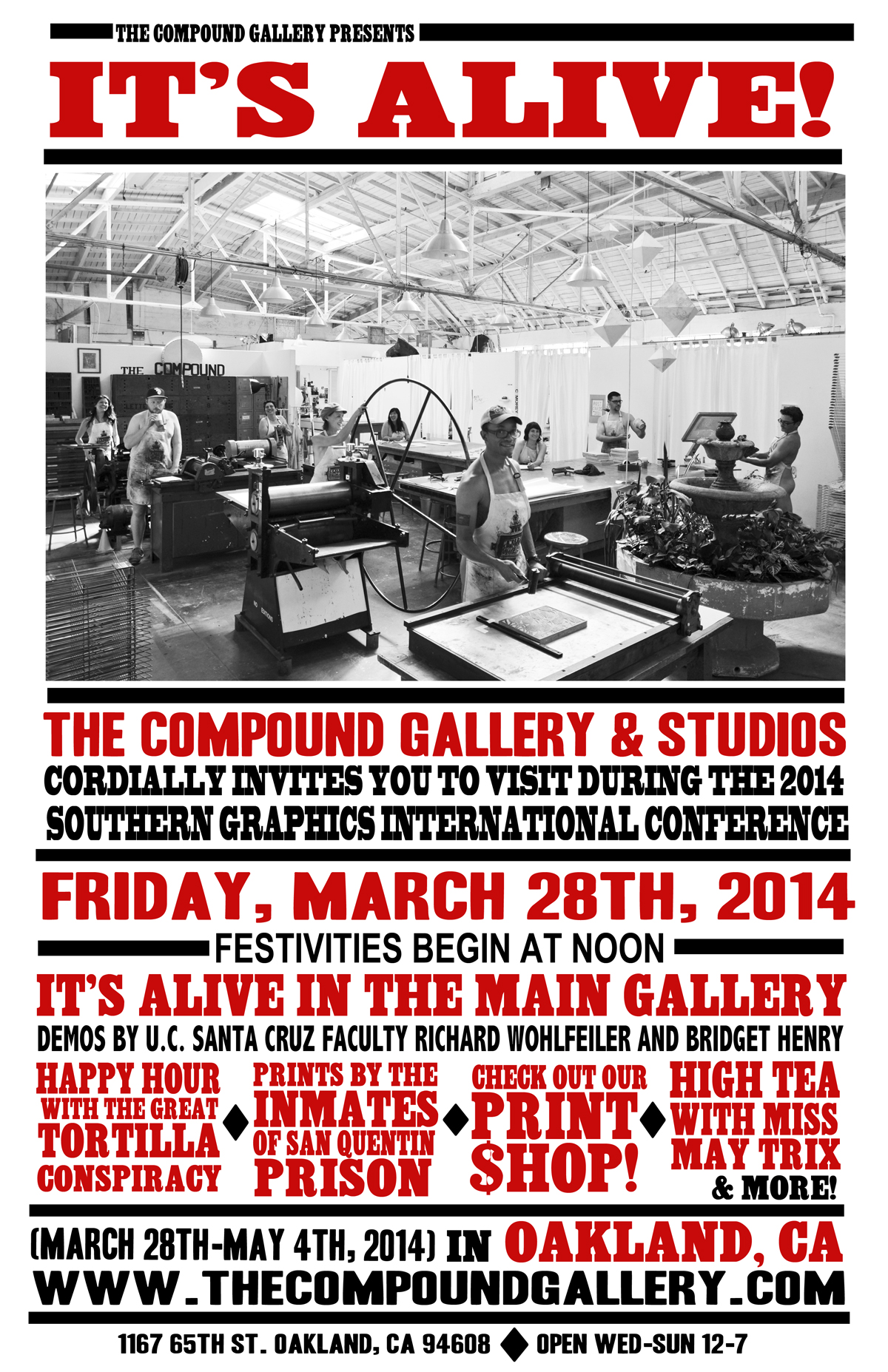 14 Mar

It's Alive! (March 28th-May 4th, 2014)
It's Alive! Print!
(March 28th-May 4th, 2014)
 OPENING Friday, March 28th, 11am-8pm
(See schedule below)
It's ALIVE! What is it?
The Compound presents an epigenetic take on multiplicity and singularity.  This large scale printed installation unfolds across the gallery like a self generating protein.  The living nature of this grand collaborative experiment seeks to reveal links between past, present and future conceptions of the indirect mark. Traditional ideas of artistic production are tackled and driven to the ground in this multi media extravaganza of print production. The notion of multiples is manifested as a literal specimen of print techniques.
The installation is one piece, and it is many.  It is individual and it is whole. Patterns emerge from seemingly disparate pieces, as artists attack and blend concept, form and technique.  We invite the viewer to emerge from the fray with a cohesive array of eye and mind candy.
Participating artists include:  Melissa Brown, Kevin Bradley, Kevin Haas, Nathan Haenlein, Adriane Herman, Eric Hongisto, Amanda Knowles, Jeanne Lorenz,  Anthony Ryan, Camilla Taylor, Richard Wohlfeiler, Defne Beyce, David Spiher, Zach Clark, Mari Pinotti, Moonyoung Sung, Jaymie Johnson
MAIN GALLERY: It's Alive
ON BUILDING: Yeh Vs. Hazelwood 2014: Woodcut Battle
IN ARTIST GALLERY: San Quentin Prison Arts Project
IN STUDIOS: Gold Diggers Installation
IN THE ADMIRAL DOT MINIATURE GALLERY: Alison Tharp
IN THE ART IN A BOX HEADQUARTERS: Zach Clark
ALONG THE PATHWAY FROM KALA TO THE COMPOUND GALLERY: Nomadic Habit: A crew of East Bay artists and cooks are coming together to inhabit a piece of land along the corridor between Kala and the Compound. Even as locals, this section of land feels unfamiliar and obscure. There we will install a temporary oasis where we serve and print with foods which stain. Visit our tent and take a photo on your way between the studio-galleries. #nomadichabit
IN THE ARTISTS GALLERY: San Quentin Prison Arts Project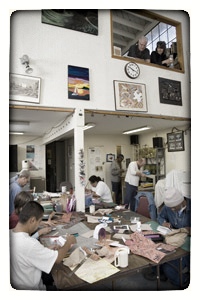 San Quentin State Prison has the last remaining art program in the state after the entire program which employed more artists than any other program statewide was destroyed by Arnold Schwarzenegger. The current art program is called the Prison Arts Project and is funded by the non-profit, William James Association. Among the several programs is a printmaking class started by Katya McCulloch in 2005.  The program focuses on linocut prints and artists books. Several prints have been accepted for inclusion in the permanent collection of the Library of Congress, including Blocks Off the Block, a 2010 edition of 35 hand-bound and hand-printed books of original linocut prints. The Tower Book was awarded the blue ribbon at the 2009 Marin County Fair Fine Art Exhibit. A collaborative piece on censorship, "Ill of Rights," created by SQ printmakers and printed at SF Center for the Book's ROADWORKS: Steamroller Prints in 2008, was selected for the County Fair Fine Art Exhibit. Since 2008, Art Hazelwood has been a visiting artist at San Quentin for several projects in Katya's class. Katya and Art will curate an exhibition of prints by inmate artists that shows their dedication to the craft of printmaking and the power of their expression.
ON THE BUILDING: Woodcut Challenge: Yeh Vs. Hazelwood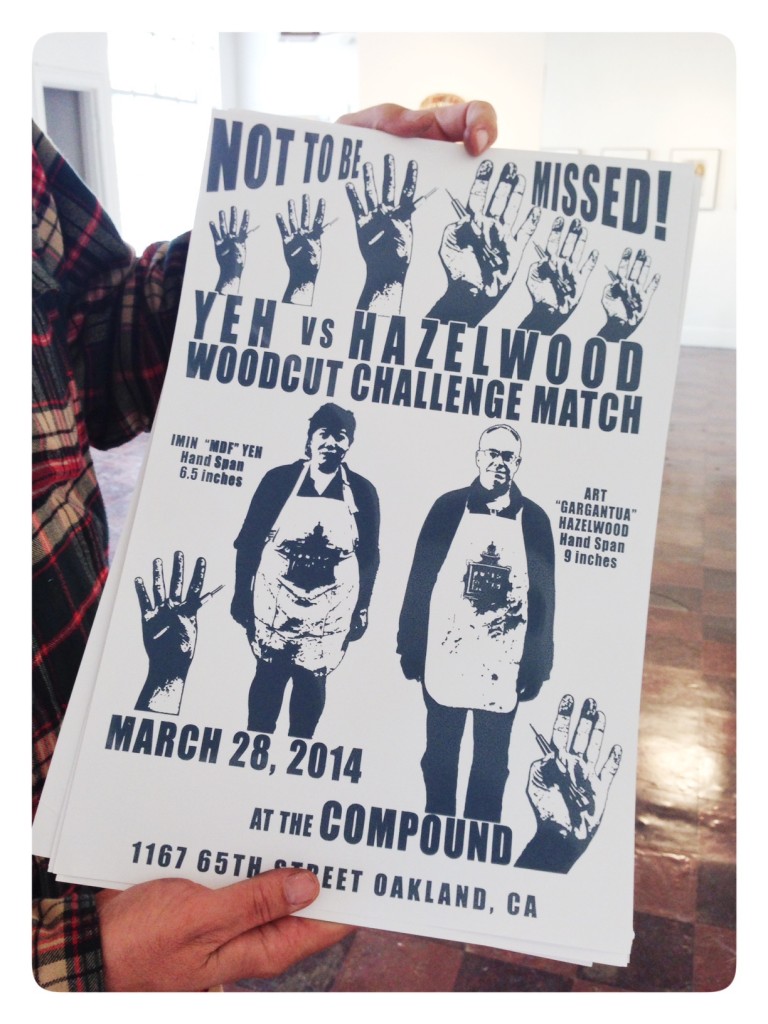 Upstart to the Woodcut Battle Arena Imin "The MDF" Yeh, has laid down the challenge and list of secret carving tools. It'll be a fight to the finish in 2014's WBA fight of the Bay Area. Both adversaries have their own satirical strengths, and neither can afford to simply run through their paces. You won't want to miss Yeh vs Hazelwood 2014!
Resume: called Art "Gargantua" Hazelwood out from his long hibernation to compete in a truly sensationalistic woodcut bout. Standing just shy of 5 feet 2, Yeh is a powerhouse in the use of bold graphics and conceptual right hooks. Hazelwood, standing at a lethargic 6″6′, using a doggerel form of undercuts, is famous for dirty tricks and a long list of secret carving tools. It'll be a fight to the finish in 2014's WBA fight of the Bay Area. Both adversaries have their own satirical strengths, and neither can afford to simply run through their paces.  You won't want to miss Yeh vs Hazelwood 2014!
IN THE MAIN GALLERY: Mugshots, 2014 Color Woodcut: Anthony Ryans's Relief Workshop Class at San Francisco.
Brandon Alvarez, Caleb Anderson, Javier Arcila, Mark Becker, Jacqueline Dailey, Kiana Endres, Kayli Harig, Andrea Hernandez, Jorge Herrera-Munoz, Neal Hogan, Bryan Lacalle, Anna Lark, Michael Nguyen, Regan O'Grady, Rebeka Pelaez Gaetz, Anthony Ryan, Muzae Sesay, Jena Storle, Ryan Whelan, Patrick Whitehill
IN THE STUDIOS:
Gold Diggers – an unlikely story of treasures found and fabricated. A large-scale installation by Bridget Henry. Bridget Henry has been exploring the possibilities of woodcut printmaking since 1994, and continues to be enthralled with this alchemical process.  She is a graduate of UC Santa Cruz and the recipient of the 2001 James Phelan award in printmaking.  Bridget works in the printmaking studio at UC Santa Cruz and has taught relief printmaking at Cabrillo College Summer Arts Program, California Art Education Association, Art League of Santa Cruz, Idyllwild Art Academy of CA, and out of her home studio on the north coast of Santa Cruz, CA. Her recent work includes an outdoor installation of nine large –scale prints on the walls of the Satnta Cruz Public library.
Friday, March 28th:

1pm Demo: Laser cutter for CMYK woodcuts as well as paper cuts with Richard Wohlfeiler.
Richard Wohlfeiler teaches print media courses at UC Santa Cruz. He works with a variety of approaches, including relief, intaglio, plate, photo and waterless lithography, and digital printmaking. His current interests involve the fusion of traditional and digital methods. In recent work, he has been exploring the possibilities of using a laser cutter to cut relief blocks for images designed on the computer and for making papercuts.
DOWNLOAD DEMO PDF: Using a laser cutter to produce matrices for relief printing
 2-4pm and 6-8pm Performance: The Great Tortilla Conspiracy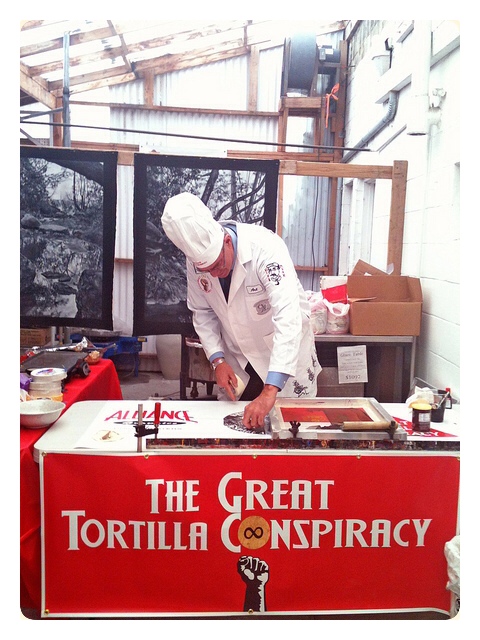 The Great Tortilla Conspiracy is the world's most dangerous tortilla art collective. Modeling themselves after the Free Masons, artists Jos Sances, Rene Yañez, Rio Yañez, and Art Hazelwood bring the gospel of tortilla art to the masses like no other. The Great Tortilla Conspiracy is a collective based on food. The founding document of the Conspiracy cites the miraculous appearance of several deities, not least of which is the Virgin of Guadalupe, upon various surfaces—clouds, rocks, folded laundry, as well as upon various food stuffs… most famously toast. The tortilla roots of miraculous apparitions goes back to the early days at the Galeria de la Raza in the Mission District of San Francisco. An artist taking his inspiration from vaqueros of yore bent a coat hanger into a sacred shape and branded tortillas with the saintly image. While the tortilla plays the central role in the esthetic practice that is the Great Tortilla Conspiracy the results were not always edible. In fact in the earliest days of the Conspiracy found the humble tortilla decorated with ink better suited for t-shirts than foodstuffs. Technological developments have led the Conspirators in many directions finally settling on a secret recipe that has been called delicious by many a quesadilla acolyte. The now edible artwork produced by the Conspiracy is screenprinted on tortillas and cooked on a griddle so that the image is affixed to the substrate. Simultaneously cheese is melted on the reverse side. Salsa is optional. The art consumer can both eat and enjoy the aesthetic sensation that is the Great Tortilla Conspiracy. Thus with our pre-history disposed of the Great Tortilla Conspiracy steps forth into the 21st century embracing the principles of free food for all, and digestible satire. The Great Tortilla Conspiracy is: Jos Sances, René Yañez, Rio Yañez, Art Hazelwood