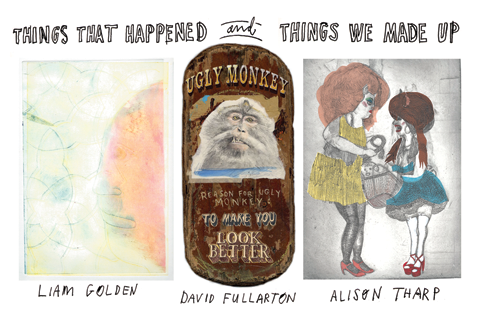 30 Jan

Things That Happened and Things We Made Up (February 8th-March 23rd, 2014)
Things That Happened and Things We Made Up
 Liam Golden, David Fullarton, Alison Tharp
(February 8th-March 23rd, 2014)
Opening Reception: Saturday, February 8th, 6-9pm
Artists Panel: Sunday, March 23rd, 3-6pm (talk starts at 4pm)
Watch it LIVE on our website
CLICK HERE TO PURCHASE WORKS FROM THE SHOW 
Things that Happened and Things We Made up showcases work of three Bay Area artists who have observed and documented the thrilling, ridiculous, and mundane occurrences in  (fictional?) daily life.  Alison Tharp, David Fullarton, and Liam Golden approach their work with humor and playfulness allowing the viewer to ultimately decide…what really happened? The show will include the following media: Painting, Prints, Books, Drawings, Amateur Scholarship, Sound, Sculpture.  There will be also be surprises by Fullarton in Ye Olde Art Machine…for a mere $1.
What Happened??
Alison says, "Things that happened and things we made up. What happened? I attended the Castro street fair in San Francisco. 2013. Their 40th anniversary. I watched drag queens perform the wizard of oz on stage. I stood up close enough to see leg hair under fishnets. I wandered through the crowd. Saw raindrop people drowning in candy. Squinted in the sunset wile people danced on rooftops. Reality suspended for a day. Wigs and glitter and drugs OH MY! Some unbelievable things happened that day. Some believable things didn't.  I have an acrylic painting and some mixed media etching prints in this show."
Liam says, "We all make things and make things up. William Keating joyfully, reclusively produced thought-works, drawings, other methods and experiments. Liam Golden discovered his underground studio, tucked beneath Turtle Hill, San Francisco. Therein lay a treasure of forgotten art and ideas. For the first time ever, Mr. Golden has curated a small collection of this remarkable discovery.
David says, "Truth, they say, is stranger than fiction. And that statement certainly feels like the truth to me.  The alarming fact is, that in the mad pantomime of modern existence, it seems almost impossible to make anything up, no matter how ridiculous, that hasn't actually happened at some point to someone, somewhere. That, of course, is never going to stop me trying.  And the resulting smörgåsbord of absurdity is my contribution to this show. It's an ongoing attempt to create large truths from small fictions– another catalog of the guilty pleasures, bizarre minutiae and regrettable incidents that punctuate lives lived with quiet desperation and filled with bitter remorse.  Of course everything you see here is true. You really can't make this stuff up.