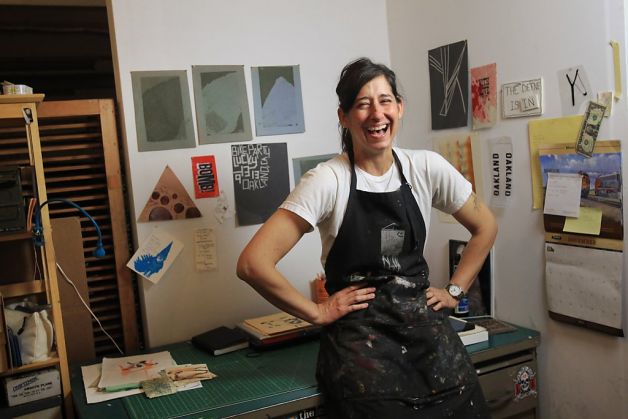 13 Nov

"Text Message" in the San Francisco Chronicle
Twitter IPO draws Compound Gallery old-school art
Updated 4:43 pm, Tuesday, November 12, 2013
Above: Defne Beyce works in her Compound Gallery space during the opening of "TextMessage." Photo: Leah Millis, The Chronicle
The weekend after the Twitter IPO, every technologist in town had an opinion about it – including the typesetters and metalworkers at Oakland's ultra-retro Compound Gallery, who decided to put on a show.
A converted Levi's stonewashing factory, the Compound has around 35 artists working in the most old-fashioned forms: metalworking, woodcarving and etching. And yet the Compound artists find that the topic of their crafts keeps coming back to tech. And on a recent Friday night, they opened their show, "TextMessage," on social media.
"People here, we all work in these old, strange media," said the show's curator, Toni Gentilli. "But we have a new common theme that's happened kind of organically – the techniques of modern society."
Woodcarver Crystal Morey was showing images of her art – intricately hand-carved sculptures of animals- that had gotten the most social media traffic (retweets, etc). They were called #crystalmorey and categorized under #tbt (throw back Thursday, a social media trend). Alexis Babayan had made a woodcut portrait of an old-time typewriter shop – nostalgia upon nostalgia. A stop-motion animated letterpress piece played on an iPad that sat by the pretzels and wine. At the center of the gallery, a hand-painted sign hung on the wall with the words, "Gold Rush."
Art responding to technology isn't new, but it's interesting when some of the Bay Area's most serious conventional artisans make it their theme.
Printmaker Mary Mortimer, 53, turned online lingo like hashtags and RT (retweets) into hieroglyphs and printed them onto papyrus. She uses myriad social media forms but prefers Snapchat, a teen favorite photo-messaging app that deletes images after a few seconds. "I snapchat my art." She's currently snapchatting with the ceramicist Ayumi Horie in Maine, whom she met at the Haystack Mountain School of Crafts.
"I'm working on a larger piece: the status-update project," Mortimer said.
Mitchel LaRue, 27, was about to melt down a large iron rack in his cauldron but stopped in the show to see what was going on. "When my computer glitches, I'll take screenshots and make patterns with it," he said, rolling up his flannel sleeves. "Who isn't making art about tech?"
Gentilli uses silver gelatin paper to make images of cell phones and wires, and described the work as spirit photography for the modern era.
"Listen, we work in antiquated, marginalized media," said Gentilli. "But we're all in this conversation together."
Nellie Bowles is a San Francisco Chronicle reporter. Her Gold Rush column looks at how tech is impacting city life. E-mail: nbowles@sfchronicle.com